MORE BANDS ADDED TO THE LINEUP!
Thursday, June 1, 2023
Welcome to Summer, FEST Friends!
To kick summer off, we are pleased to give you a big ass chunk of newly added bands to the already stacked FEST 21 line up!!!
If my pickled brain counted correctly we are adding 149 new acts to FEST 21! So many we have to put them on two different announce graphics.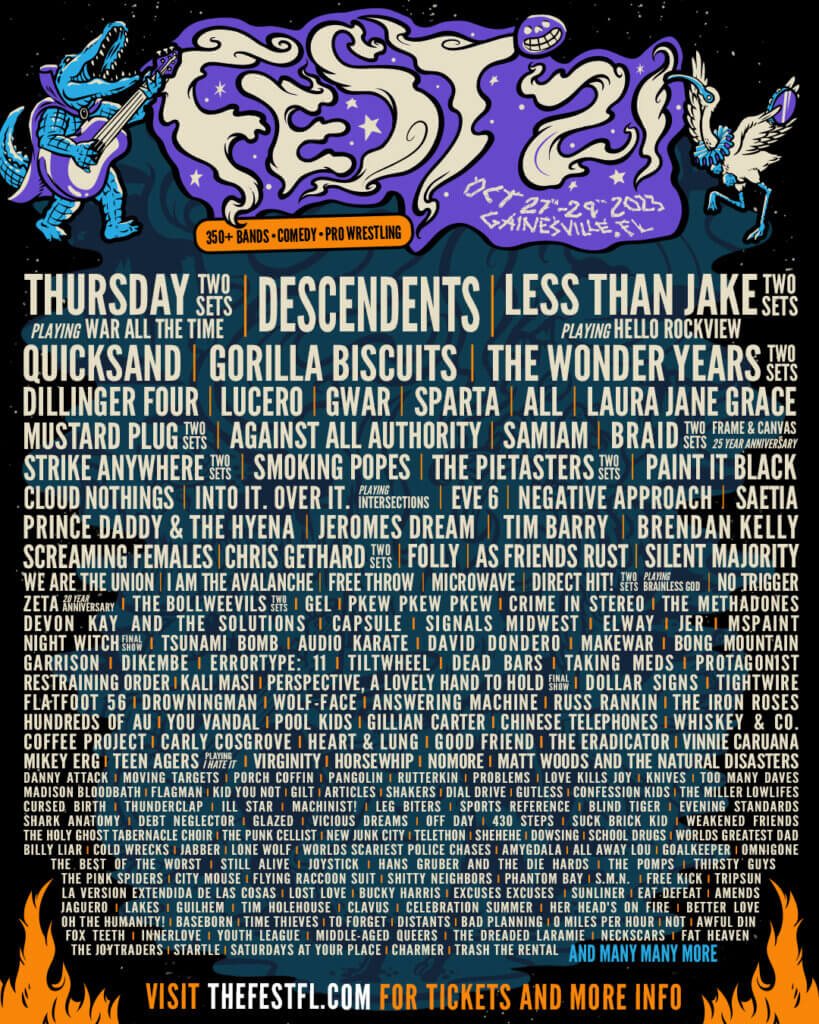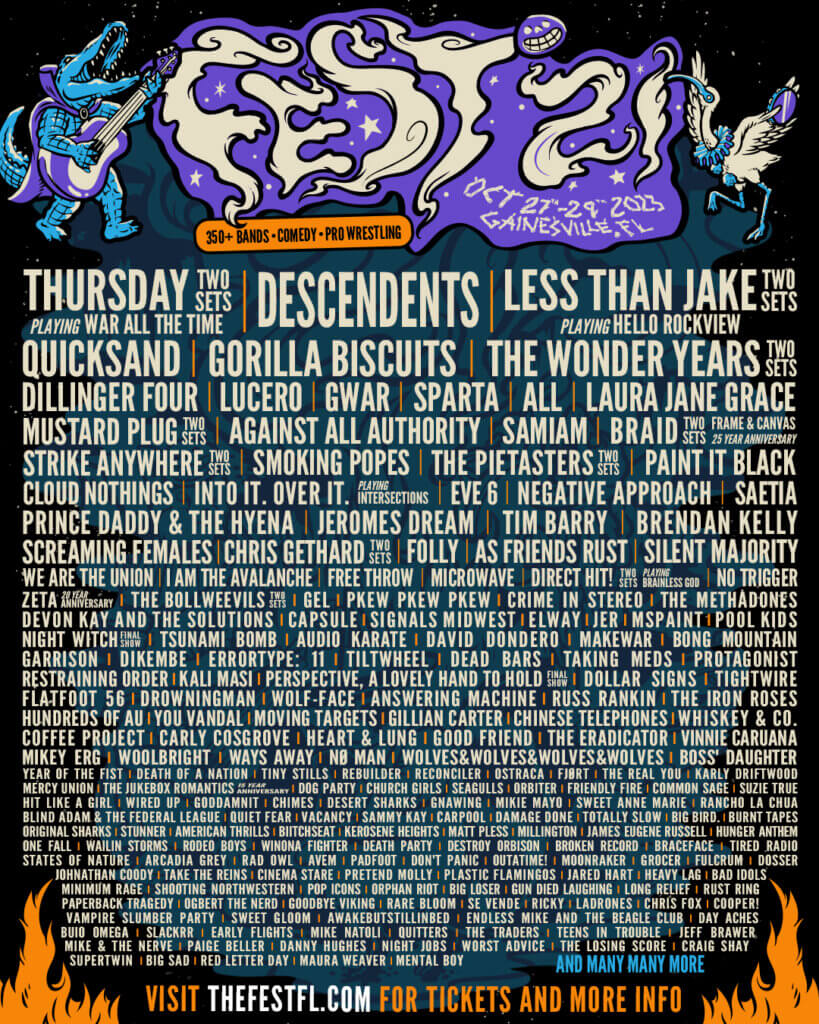 Some of the newly added bands include:
Negative Approach, Into It. Over It. (playing Intersections), Paint It Black, As Friends Rust, Silent Majority, Screaming Females, Microwave, Crime In Stereo, Pkew Pkew Pkew, Tiltwheel, Mikey Erg, Devon Kay and the Solutions, Night Witch (FINAL SHOW), Pool Kids, MSPAINT, David Dondero, Perspective, a lovely hand to hold (FINAL SHOW), Whiskey & Co., Woolbright, Ways Away, NØ MAN, and many many more!
FEST 21 -THREE DAY PASSES INFO
So, FEST 21 3-DAY passes are all sold out! We put up 3,500 for sale and you all snagged them with the quickest, fastest FEST 3-DAY pass sell out to date. Guess we are doing something right this year.
But, do not fret if you were not able to snag a pass.
SINGLE SHOW TICKETS & THE FEST 21 SCHEDULE will be available on JULY 15th.
We will have single show tickets available for the following venues:
BO DIDDLEY PLAZA, HEARTWOOD, THE WOOLY, HIGH DIVE, VIVID MUSIC HALL (including FEST WRESTLING)
We will have the lineups/ price/ etc available in the weeks to come!
FEST 21 OFFICIAL HOTELS INFO:
Currently all FEST 21 weekend blocks are SOLD OUT. We do have some THURSDAY and MONDAY rooms still available AND there is a chance that some folks may cancel their plans and release their rooms.
YOU CAN CHECK OUT THE HOTEL OPTIONS AND PRICES NOW AT THE HOTELS SECTION OF OUR ONLINE STORE.
FEST 21 KICK OFF SHOW @ BO DIDDLEY PLAZA
We are once again gonna do a big kick off show for the folks that are coming to Gainesville early. We are also offering a BLIND TICKET PRICE of $20.00!!! From today until we announce who is playing on JULY 15th you can save yourself $10/ticket and trust in us that we have something really rad planned for you. Jump on this deal. We have already sold over 1,000 tickets for this show! 1/3rd the way to being sold out!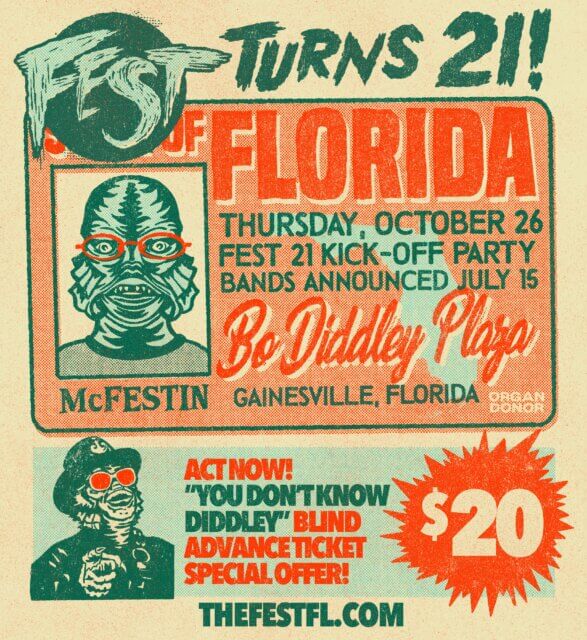 FEST 21 COMEDY LINEUP ANNOUNCED JUNE 16TH AT 10AM EST!!!
This year we have really stacked the deck here with the comedy lineup and can't wait to share with you who will be joining our returning headliner, Chris Gethard. We have many of your FEST favorites coming back this year as well as lots of newbies to FEST. 30 comics in total so save the date and come back to see who we booked this year.
BE A PART OF THE FEST FAMILY
Follow us on the following social media platforms: FACEBOOK / TWITTER / INSTAGRAM
You will not only stay up to date with the news and announcements leading up to FEST 21 but you will also get updates on stuff FEST has planned in Gainesville leading up to FEST 21 as well as new release updates/ tour dates and all kinds of stuff that official FEST bands have going on.
Until then, check some cold ones, fill up the kiddie pool and start prepping for FEST 21 by listening to the FEST RADIO PLAYER. Perfect way to check out new bands and start making your hit list of who you plan to check out this year.
We will see you back here on JUNE 16th for the FEST 21 COMEDY LINEUP ANNOUNCEMENT.
CHEERS!
TONY AND THE FEST 21 CREW