LET'S GET READY TO FEST!!!
Monday, October 23, 2023
Hey FEST Friends,
IT'S TIME FOR FEST 21!!!
Here are a few quick reminders on what you need to know before getting to Gainesville.
ARE THERE ANY PASSES LEFT? I DON'T SEE ANY IN THE WEB STORE. CAN I STILL BUY ONE? IS IT SOLD OUT? WILL IT SELL OUT BY THE TIME I GET THERE?
FEST 21 THREE DAY PASSES ARE  SOLD OUT*. THERE WILL BE NO PASSES AVAILABLE FOR WALK-UP PURCHASE WEEKEND OF FEST!
There are several individual showcases still available you can buy a ticket for. Many of those have also sold out so grab them or tell a friend who is in need to jump on it with the quickness:
The cheaper pre-sale price will be available online until 12 hours before the show starts.
The walk up sale price will be available IF the individual ticketed shows are not sold out.
WHERE DO I GO FOR REGISTRATION? WHAT DO I BRING?
FEST Registration is on Friday, October 27 from 12pm-7pm. Please do not show up after 7pm.
If you miss Registration on Friday you will NOT be able to get into shows on Friday night. See below for information about Late Registration on Saturday.
BOXCAR Beer and Wine Garden (Located at The Depot Station in Downtown Gainesville)
201 SE Depot Ave
Gainesville, Florida 32601
There's a huge free parking lot next to Depot Park. Please take a look at the map below: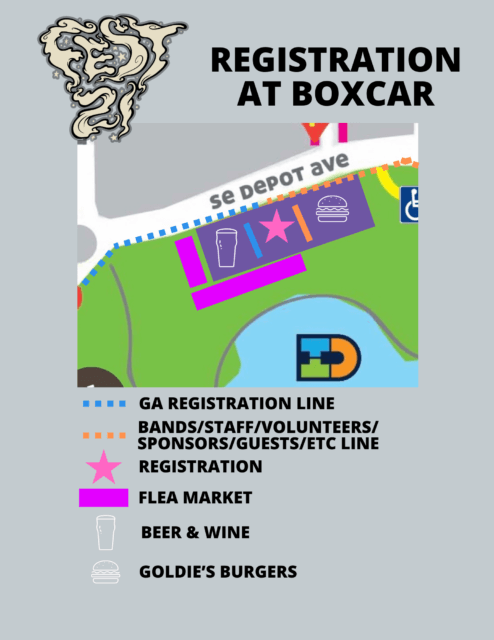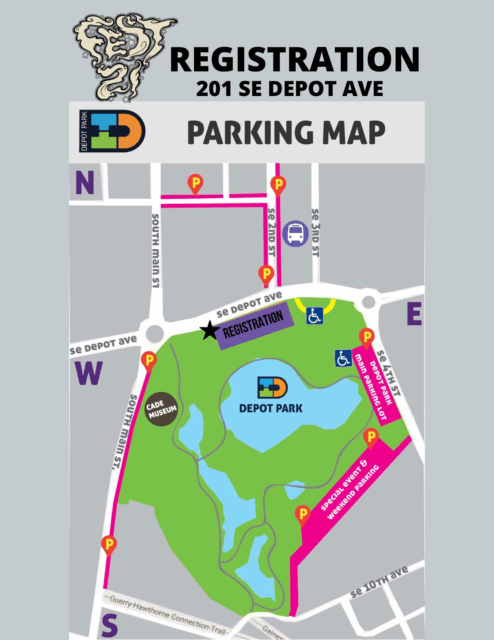 (Parking locations are highlighted in PINK)
Bring two things to REGISTRATION:
PHOTO ID or PASSPORT
A copy of your order receipt (YES, you can show us the e-mail on your phone, save a tree!) or your name change email
Extra Credit: Visit thefestfl.com/reg and get a QR code to check-in even faster (you will still need #1 and #2 to check-in).
For more information about registration, have a nice read here: REGISTRATION.
VOLUNTEERS, BANDS, PRESS, & SPONSORS: Keep an eye out for signs pointing you to your registration area. There's a separate line for your check-ins.
BANDS: If you miss registration, your packet will be delivered to your venue the day you play and will be with your stage manager. ID must be shown, and will only be accepted if the name on your ID matches the contact name you sent us.
CAN MY FRIEND PICK UP MY PASS?
Yes! You MUST email to change the name on your pass by TUESDAY, OCTOBER 24th. We will not be able to process name changes after that date.
Contact See Tickets Customer Service (NOT FEST Customer Service) ASAP to change the name on your pass.
Email: help@seetickets.us – Phone: 855-976-2544
Hours: Phones 8am-12pm (PT), Chat 1pm-5pm (PT)

If you miss registration check in, you will NOT be able to pick up your info or wristbands at the venues.
WHAT HAPPENS IF I MISS REGISTRATION ON FRIDAY?
Registration Lite will take place on Saturday October 28th from 12-2pm. You will be able to pick up your wristbands but there won't be flea market vendors. This is your only other opportunity to pick up your wristband if you miss Registration on Friday.
Please go to the front gates of Bo Diddley Plaza (111 E University Ave, Gainesville, FL 32601) for Registration Lite.
I BOUGHT A TICKET TO A SINGLE SHOW…
Your ticket will not be at  registration!!!  It's at the venue at WILL CALL. Go to the venue with your ID and your name will be on the list. Save your order on your phone in case there is an issue or you entered the incorrect name when you purchased your single show ticket.
INTERNATIONAL ATTENDEES: 
YOU MUST HAVE YOUR PASSPORT TO GET INTO VENUES!!! EVEN IF YOU ARE UNDERAGE.
WHO'S THIS MYSTERY BAND? 
The mystery bands for each day will be announced in the morning. We'll announce them on social media and they'll be updated in your apps!
WHERE DO I GET THAT SWEET FEST MERCH?
We will be slinging FEST merchandise all weekend long! We have t-shirts and hoodies and hats and totes and sweatpants and so much more. You can find us at…
FEST 21 REGISTRATION @ BOXCAR Friday (12PM-7PM)
BO DIDDLEY PLAZA Thursday, Friday, Saturday & Sunday!
We won't be shipping anything, so the only place you can buy our merch is from us during the FEST. We accept cash and cards!
WHERE'S THE FEST FLEA MARKET?
We have some amazing vendors selling their goods at FEST Registration only on FRIDAY (12pm-7pm) at DEPOT PARK. A list of vendors can be found on the FLEA MARKET page.
IS THE APP OUT?
Yes! We have an app! Get it for iPhone or Android here!
You'll see who's playing where and when, you'll get the latest schedule updates (if you've been before, you know how many day-of schedule changes can happen). You can make your own FEST schedule and get alerted before bands go on. You can see a map of all the venues, and more!
IS THE PRE-FEST/ KICK OFF SHOW AT BO DIDDLEY PLAZA/ LOOSEY'S PART OF MY FEST 21 PASS? 
NOPE: These two shows are just a fun one off show we are putting on for those of you coming to Gainesville early and for the locals in town.
The Loosey's Kick Off show is SOLD OUT!
The Thursday kick off show at Bo Diddley Plaza still has tickets available: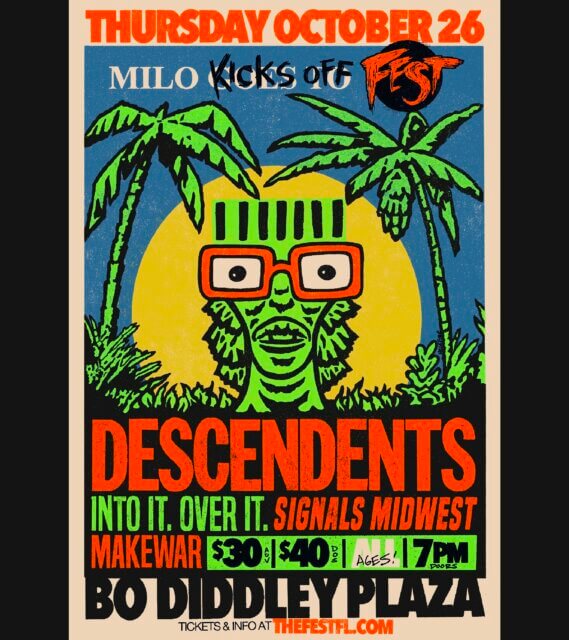 DOORS: 7:00pm/ ALL AGES/ OVER AT 11PM
You can get a single show ticket for that show or pay more and walk up day of show.
I PROMISE I READ THE REST OF THIS POST BUT I STILL HAVE A QUESTION.
For everything else we have a FAQ for those kinds of questions. Read up!
LAST MINUTE UPDATES
Don't forget to download the FEST app and follow us on Facebook, Twitter, and Instagram for last minute updates!
That's all for now, but we'll see you soon. Safe travels!!!
– Sincerely, The FEST!!!