THE FEST TURNS 21!
Saturday, April 15, 2023
Welcome back Fest Friends!
We are stoked to officially launch the FEST 21 website, announce the FEST 21 dates, and the first big batch of bands joining us for the party this year!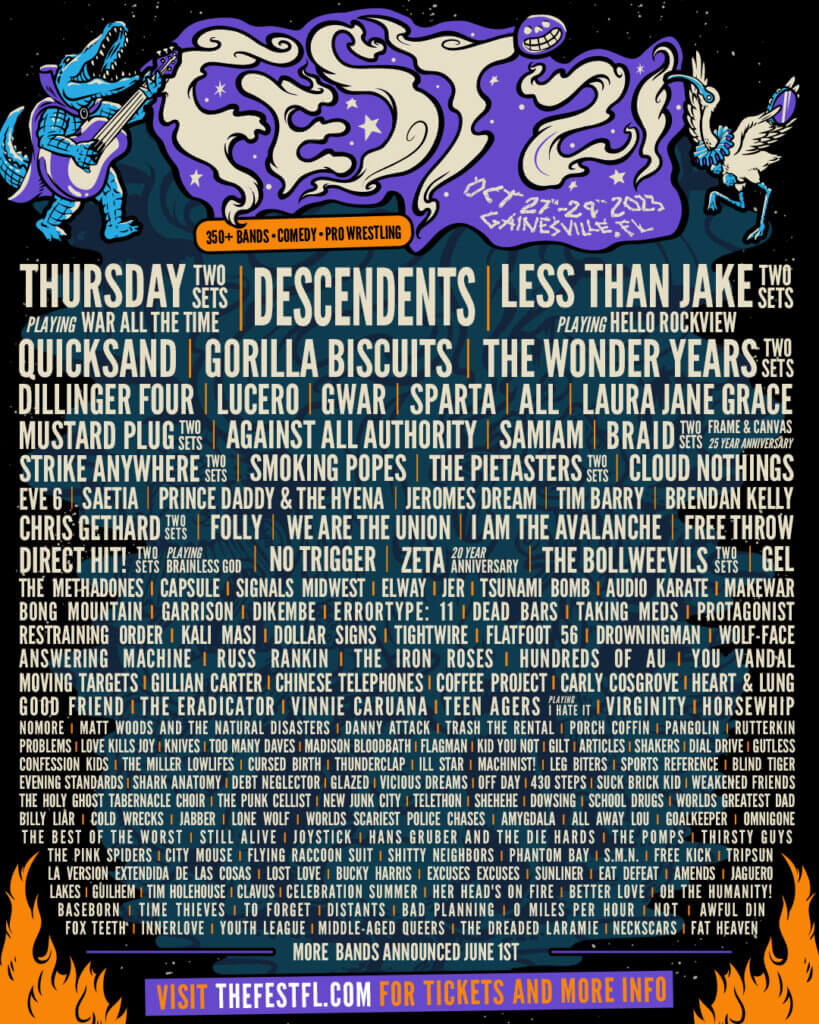 Click that poster to see the bands we have announced so far. Stay tuned because we will also be announcing another big batch of bands on JUNE 1st!
FEST 21 -THREE DAY PASSES INFO
This year we are doing tiered pricing by date, so if you buy your passes early, you save the most money.
These passes grant you access to all the official shows for FEST 21.
Currently we are working with 18 venues in downtown Gainesville – all in walking distance of each other.
We are only selling 3,500 FEST 21 -THREE DAY PASSES.
There is a strong chance they will sell out before the 2nd pricing tier even comes around so if you can afford to charge it now we would advise you do so to guarantee that you have a pass for FEST 21!
FEST 21 -THREE DAY PASSES GO ON SALE MAY 15 @ 10am EST!
APRIL 20th – MAY 31st = $180.00 – 1ST TIER PRICING
JUNE 1st -AUGUST 31st = $210.00 – 2ND TIER PRICING
AUGUST 31st – SEPTEMBER 30th = $230.00 – 3RD TIER PRICING
OCTOBER 1st – OCTOBER 25th = $250.00 – 4TH TIER PRICING
*THESE PRICES DO NOT INCLUDE SERVICE FEES AND TAXES
FEST 21 OFFICIAL HOTELS
We are stoked to be working with FIVE official hotels this year to offer attendees the best rates but also a place where you can stay among other FEST Friends and at hotels who are accommodating to FEST attendees.
FEST 21 OFFICIAL HOTELS GO ON SALE MAY 15 @ 10am EST!
YOU CAN CHECK OUT THE HOTEL OPTIONS AND PRICES NOW AT THE HOTELS SECTION OF OUR ONLINE STORE.
FEST 21 KICK OFF SHOW @ BO DIDDLEY PLAZA
We are once again doing a big kickoff show for the folks that are coming to Gainesville early. We are also offering a BLIND TICKET PRICE of $20.00!!! From today until JULY 15th (when we announce the lineup), you can save yourself $10/ticket and trust in us that we have something really rad planned for you.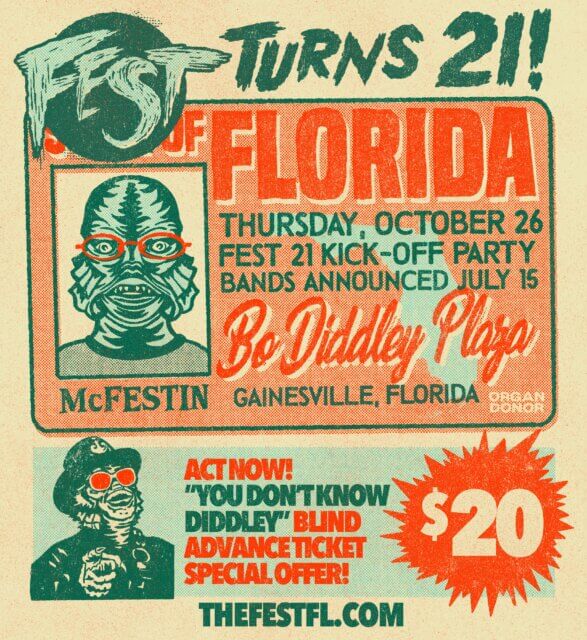 BE A PART OF THE FEST FAMILY
Follow us on the following social media platforms: FACEBOOK / TWITTER / INSTAGRAM
You will not only stay up to date with the news and announcements leading up to FEST 21, but you will also get updates on stuff FEST has planned in Gainesville leading up to FEST 21… as well as new release updates/ tour dates and all kinds of stuff that official FEST bands have going on!
We will see you back here on 5/15 at 10am EST when FEST 21 THREE DAY PASSES AND HOTELS GO ON SALE!!!
Until then, pass some time by getting to know all the bands we have booked so far by listening to the FEST RADIO PLAYER, and start planning out your trip to sunny FEST friendly Florida this fall to help us celebrate 21 YEARS OF FEST!
CHEERS!
– TONY AND THE FEST 21 CREW