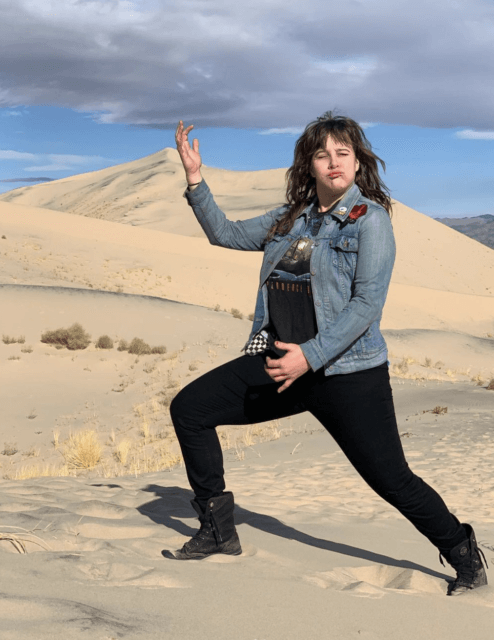 Brandie Posey
Los Angeles, CA
Bio
"Huddled in the back of comic shop in Ventura about an hour north of Los Angeles, punk rock comedian Brandie Posey proceeded to make magic while she recorded her debut comedy album. ..Posey's stories are equally an intimate affair and a pure riot. Being there I felt like I was in on one of the raddest secrets in comedy, but I know that even more people will know Brandie Posey soon enough when the album drops… I can't wait to re-live it." – Comedycake.com
After years of touring nationally, comedian Brandie Posey's first album Opinion Cave dominated the charts at #1 on iTunes & #12 on Billboard when it was released. Opinion Cave showcases why Brandie has been described as a "Riot Grrl on Acid" – Posey is a fearless, energetic & hilarious powerhouse comedian for the ages. Her debut album is the world's first look at what the underground Los Angeles comedy scene has already known for years.
Brandie co-hosts the wildly popular podcast, Lady to Lady, with rabid listeners all over the country. BUST Magazine recently said their Margaret Cho episode was "the funniest podcast episode ever". With thousands of diehard fans & over 15 million downloads, Lady to Lady has made a name for itself as a must listen show for men & women alike. Entertainment Weekly described Lady to Lady as "the best adult sleepover" and RE:Com Magazine called Lady to Lady "an overgrown, smart ass Babysitter's Club". In 2021, Lady to Lady joined My Favorite Murder's Exactly Right Media podcast network.
Brandie has been featured at every major comedy festival in the United States, including Bridgetown, High Plains, SF Sketchfest, RIOT LA & FEST in Gainesville. She is also honored to have opened for Maria Bamford, Kyle Kinane, Dana Gould, Beth Stelling & legendary punk band Against Me!
Brandie Posey is now & will always be a ska kid, lives in a double wide mobile home in LA & tours nationally in a Scion xD with a mural of Abe Lincoln fighting a T Rex in space painted on the side of it.
WHAT'S YOUR FAVO(U)RITE ANIMAL?
T Rex, RIP to a real one
WHICH FEST SET ARE YOU MOST EXCITED FOR?
Extremely stoked for Dollar Signs & Catbite!