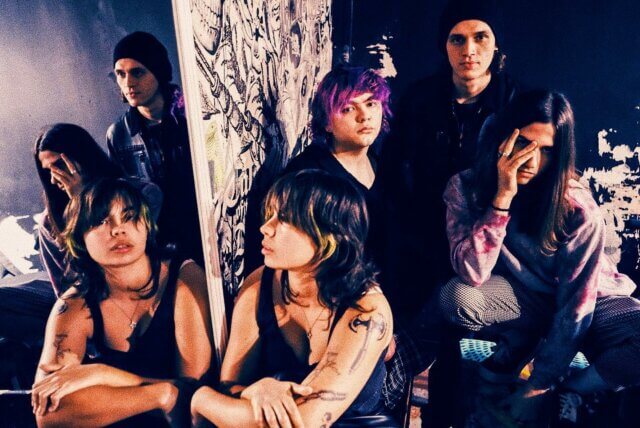 Palomino Blond
Miami, FL
Limited Fanfare
Bio
Beginning in 2018, Palomino Blond immediately developed a reputation as one of the hardest-working bands in the state, packing house shows and converted warehouses all over Florida with only a handful of demos to their name. From their humble beginnings in Kendall's long tradition of DIY all-ages shows to getting recognized by Iggy Pop as ""one of Miami's brightest lights,"" Palomino Blond has consistently grown its audience through a music-first approach with raucous live shows and an infectious, ever-evolving sound that is as inviting as it is intense in its mood shifts.
The band has supported supported and toured with with Black Lips, Last Dinosaurs, Of Montreal, Chastity Belt, A Place to Bury Strangers, The Casket Lottery, Spirit of the Beehive, Born Ruffians, Unwed Sailor, Ceramic Animal, seeyousoon, Thelma and the Sleaze, and Spendtime Palace, along with appearances at The Fest, iii Points, Sing Out Loud, Pulp Fest, Bumblefest, and MadSoul. The band's fiery live shows regularly garner glowing comparisons to such luminaries as: The Smashing Pumpkins, The Jesus and Mary Chain, Sonic Youth, and The Breeders.
The coronavirus pandemic hit Florida in March 2020, just as the band's 12″" Split EP with Las Nubes on BuFu Records was to be released.  During the resulting quarantine, original members Raven Nieto (bass) and Jake Karner (drums) exited the band, with close friends Peter Allen (Bass/Vocals) and Acosta's cousin, Michael Arevalo (Drums/Vocals) now in the fold as permanent members and key contributors.
Summer 2021 saw the release of the forward-thinking, self-recorded and produced ""Dead Hand""/""Lo Siento"" double-single, two radically different offerings to tide fans over until the release of their  debut 7-song ontheinside EP, which will be released on November 19th, 2021 by Palomino Blond and  Limited Fanfare (The Sh-Booms, Astronautalis, Ex Norwegian, Heavy Drag.) with Vinyl, Cassette and CD available February 11th, 2022.
ontheinside was Produced and Mixed by Palomino Blond and Jonathan Nuñez (of Miami heavy legends Torche) and Mastered by Brad Boatright (The Armed, WRONG, Stranger Things Soundtracks) at Audiosiege in Portland, OR.
Acosta points out about Nuñez, "Working with Jon [again] was cool because we got to play guitar through his massive [Nuñez Amplification] amps on a lot of the tracks. He's definitely just as focused as we were on achieving that loud, bass-that-shakes-your-rear-view-mirror type of sound."  Other standout tunes on oti include "Stone," which was mixed by Grammy-nominated Producer/Engineer/Editor Alan Armitage (Ginuwine, Boyz II Men, N'Sync.)  Carli notes that "Stone came together in the studio for the most part. It had a post-punk feel at rehearsals, and then it evolved into this big blossoming neo-psych vibe in the studio. It even feels a little country at some points."  The dark and building "Lovely," Is almost through-composed, with very few repeating melodies save for the reprise of the first verse at the end. To me, it's like our Bohemian Rhapsody if Bohemian Rhapsody were 3 minutes long."
For the title track, "ontheinside" is the result of the bandmates trusting each other's judgment and building on each other's ideas. Carli re-worked a demo that Kyle wrote and added a new structure and lyrics. Michael built his drum tracks on the fly during the session, with Peter helping to layer the drums and synths, which resulted in a propulsive and hypnotic sound that anchors the EP and exceeded all of the band members' expectations.
WHAT'S YOUR FAVO(U)RITE ANIMAL?
Horsey...