Venues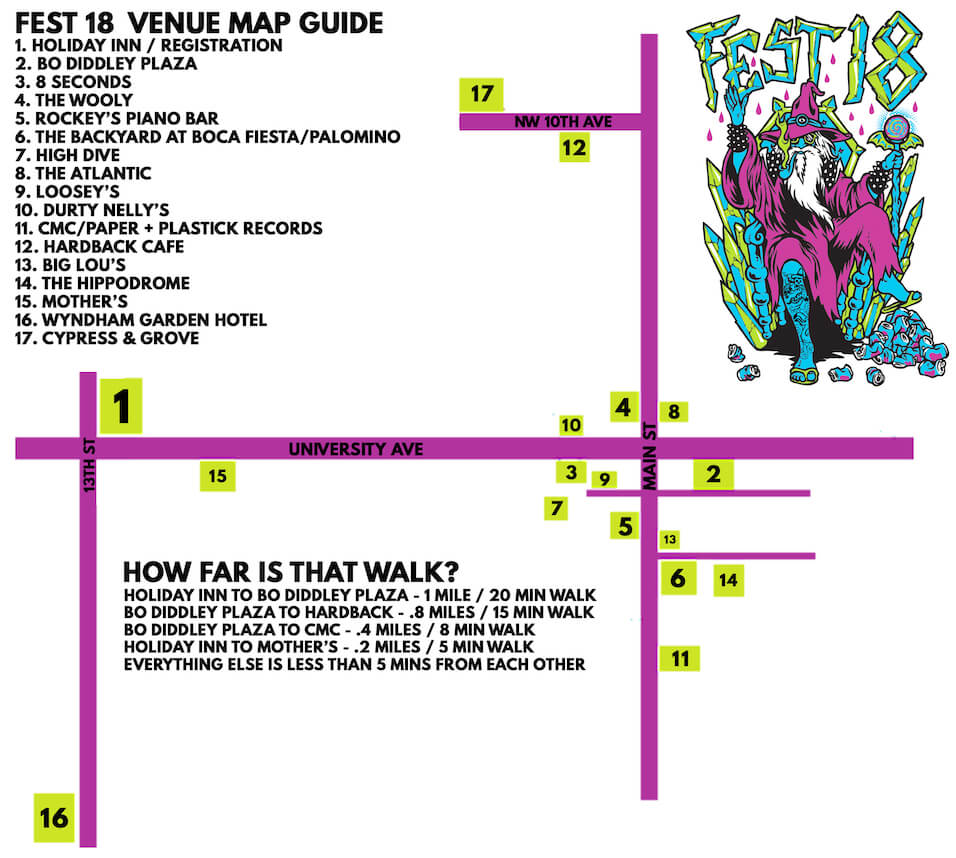 Venue FAQs
Is FEST 18 all ages?
HERE IS A LIST OF VENUES AND THEIR AGE RESTRICTIONS.
*Please contact the venues to see what their policy is on letting minors into venues when accompanied by parent or legal guardian.*
BO DIDDLEY PLAZA: ALL AGES
BOCA FIESTA: ALL AGES
PALOMINO: 18+
CMC: ALL AGES
BIG LOU'S PIZZA: ALL AGES
8 SECONDS: 18+
ROCKEYS: 18+
HIGH DIVE: 18+
LOOSEY'S: 18+
THE WOOLY: 18+
THE ATLANTIC: 18+
MOTHER'S PUB: 18+
DURTY NELLYS: 21+
HIPPODROME: ALL AGES
HARDBACK: 18+
---
What should I bring?
EVERYONE ATTENDING FEST 18 MUST HAVE A VALID ID WITH BIRTHDATE TO GET INTO ANY OF THE VENUES. NO EXCEPTIONS! IF YOU ARE FROM ANOTHER COUNTRY, PLEASE BRING YOUR PASSPORT TO EACH VENUE.
OTHER COUNTRIES' DRIVER'S LICENSES WILL NOT WORK AT THE VENUES.
If you don't have a driver's license, then you must have a legal ID or Passport. College IDs will not work. This is not the '70s.
---
What are the venues? And how far are the venues?
All of the venues are in walking distance. Bo Diddley Plaza, The Atlantic, The Wooly, 8 Seconds, CMC, Rockey's, Boca Fiesta/Palomino, Big Lou's, The Hippodrome, Durty Nelly's, and Loosey's are all in a four block radius. These are all walking blocks. Gainesville has a very small downtown. Mother's Pub is on your walk to downtown from the Holiday Inn. CMC is south on Main Street. Hardback moved and is now a 13 min walk from the Atlantic/ Wooly headed north on Main St.
---
Are FEST venues handicap accessible?
All the venues in Gainesville are ADA compliant, however many are small capacity and one level, so viewing may be obstructed.
Bo Diddley Plaza is our largest venue and does have a raised up area for better viewing. FEST does not provide wheelchairs or walkers so please bring what you need. For more specific information please contact each venue to get a better understanding of their layout.

---
WHAT IS ALLOWED / NOT ALLOWED IN BO DIDDLEY PLAZA (MAIN OUTSIDE STAGE) AT FEST 18?
NO
Chairs
Blankets
Animals (except service animals to aid guests with disabilities)
Outside Alcohol
Illegal or Un-prescribed Drugs
Weapons of Any Kind (e.g. guns, knives, sticks fireworks, mace and/or pepper spray)
Professional Cameras (i.e. cameras with a detachable lens)
Bikes
Skateboards, Skates or Rollerblades
Electronic Equipment… including laptop computers, iPads, audio recorders and tripods
Strollers
Musical Instruments (WE HAVE BANDS PLAYING. LEAVE YOUR JAMS AT HOME)
Gifts for the Band
Coolers of Any Kind (including small soft pack coolers)
Personal Property that is a potential hazard to others (e.g. chains, wallet chains or spiked jewelry)
YES
Outside Food
Open Water Bottles
Backpacks, Messenger Bags, Tote Bags, Fanny Packs, Purses (ALL BAGS WILL BE SEARCHED BEFORE ALLOWED ENTRANCE)
Cameras (any non-professional level digital cameras)
Sunscreen
Bug Spray