FEST Wrestling – WE ARE FAMILY
Monday, July 30
Hey Fest Friends,
Today we are super excited to announce the initial lineup for FEST WRESTLING's super show at FEST 17 called WE ARE FAMILY.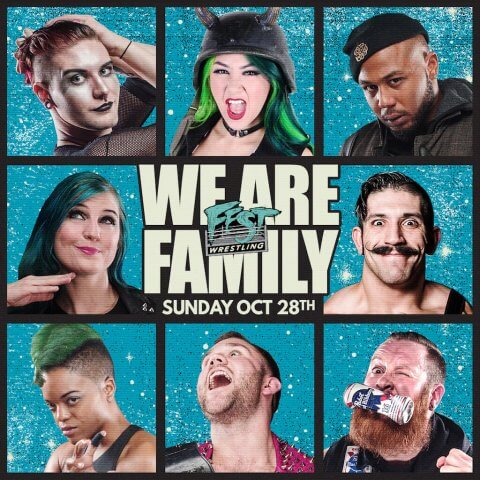 This stacked af show will not only feature all the amazing superstars of FEST WRESTLING but we will showcase talent from other independent wrestling promotions we are buds with like Wrestling Revolver, F1RST Wrestling, Freelance Wrestling, WildKat Sports, S.U.P. Graps, PWX and more.
Both the FEST WRESTLING CHAMPIONSHIP and FEST WRESTLING TAG TEAM CHAMPIONSHIPS will be on the line as well as the third annual PBR WILDMAN CUP BATTLE ROYAL but his year we are making it an intergender battle royal.
The show will be on SUNDAY OCT 28th as part of FEST 17 but if you just want to attend this show we will be selling 40 VIP tickets and 60 general admission tickets. These tickets will go FAST!!! Again, this show WILL be included with your FEST 17 pass.
WE ARE FAMILY TICKETS (for NON FEST 17 attendees) – festwrestling.limitedrun.com/tickets/
Confirmed for WE ARE FAMILY 2
OCT 28th – 8 SECONDS – GAINESVILLE, FL
EFFY
Simon Grimm
Holidead
Caleb Konley
Shotzi Blackheart
Dezmond Xavier
Zachary Wentz
Myron Reed
Leva Bates
Saieve Al Sabah
Aerial Monroe
Arik Cannon
Tripp Cassidy
Serpentico
Ugly Ducklings w/Coach Mikey
AWAKEN (Leon Scott & VANDAL)
Space Monkey
The Carnies
T.E.C.H.
Gym Nasty Boys
Sugar Dunkerton
BEASTLY
Milo Beasley
Aria Blake
Jamie Senegal
Darius Lockhart
CJ O' Doyle
The Metro Brothers
The Beach Bums
The Coda
Billy Brash
Bu Ku Dao
Matt Lancie
J. Spade
Edgrin Stone
SKULK (Adrian Alanis, Tommy Maserati, Leon Ruff, and Liam Gray)
G.R.I.T.
The Clover Clan
B.R.U.H. (Trish Adora, Ray Rumble, and Jonny X)
Fabulous Fitness
Kevin Ku
Snoop Strikes
Hunk Kasady
Haitian Sensation
Zicky Dice
The Filmmaker Movie Myk
"Juke Joint" Lucas Calhoun
Savannah Evans
Nicky Savage
Omar Amir w/ Skinny Vinny
Abominable CPA
Aja Perera
Will Hensley (High Profile)
Hotdog Starkes
Bobby Orlando
Chuckles the Clown
Joe Black
"The Aztec Warrior" Alex Cruz
"The Iron Demon" Shane Mercer w/Jason Saint
Catch up on FEST WRESTLING: https://www.youtube.com/festwrestling
– Tony & THE FEST 17 crew