FEST 20: JUST OVER ONE MONTH AWAY!
Tuesday, September 20, 2022
HEY FEST FRIENDS,
We are creeping closer to the big celebration of the 20 year anniversary of FEST!
Thought it was about time to drop you with a little update on what we have been up to.
FEST 20 3-DAY PASSES- SOLD OUT
We had a feeling that it would not take long for us to blow through the 3,500 passes we had up for sale with this stacked lineup.
Don't fret though! Even if you did not grab one of the 3-DAY PASSES, you can still come FEST it up with all your buds.
FEST SINGLE SHOW TICKETS STILL AVAILABLE
We have a limited amount of single show tickets to the shows each day at BO DIDDLEY PLAZA, VIVID MUSIC HALL, HEARTWOOD (OUTSIDE STAGE), THE WOOLY, HIGH DIVE, AND FEST WRESTLING!
Again… these are in limited quantities and some are nearly sold out! Check out the TICKETS PAGE to see what we have available.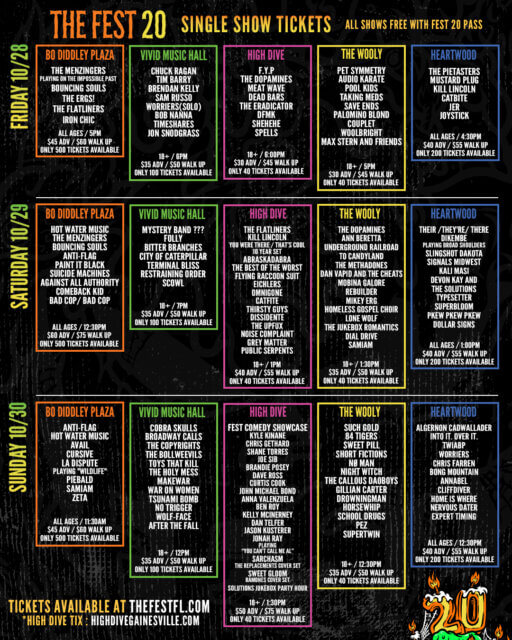 VOLUNTEER AND EARN A FREE 3-DAY FEST 20 PASS
If you live in the Gainesville area (or have volunteered for PRE-FEST or FEST and did a stellar job) and want to help out and be a part of THE FEST 20, here is your chance!
THE FEST is looking for kickass, friendly and serious volunteers. Volunteers are always needed to help run FEST. We offer a free FEST 20 pass to anyone who works one (1) shift the weekend of FEST 20. You will also get a SPECIAL FEST 20 SHIRT for being part of the team. This is a design that no one else can buy and will truly be a unique design just for you.
A shift runs about 6-8 hours depending on the job/venue/day and is anything from working registration, helping with the door/entrance at many of the venues, helping bands load equipment, stage/barricade security, and being a rockstar stage manager.
If you have moved away from Gainesville and have volunteered for FEST/PRE-FEST before and did a good job you can still volunteer without coming to an info/sign up meeting. If that is the case please email thefestvol@gmail.com for more info and to make sure we have your current contact info. We would love to have you back to help make FEST 20 awesome!
FEST 20 VOLUNTEER SIGNUP / INFO MEETINGS
ALL MEETINGS WILL BE HELD AT:
CURIA ON THE DRAG (AT DAD'S BAR OUTSIDE AREA)
2029 NW 6th St, Gainesville, FL 32609
Volunteer Sign Up Meeting #2 – Tuesday September 27, 2022 @ 7PM
Volunteer Sign Up Meeting #3 – Monday October 3, 2022 @ 7PM
Volunteer Sign Up Meeting #4 – Thursday October 13, 2022 @ 7PM
Volunteer Sign Up Meeting #5 – Wednesday October 19, 2022 @ 7PM
FOR MORE INFO ON VOLUNTEERING PLEASE CHECK OUT THE VOLUNTEER PAGE!
FEST COVID PROTOCOLS / REFUND POLICY / FAQ
Got questions, hopefully we got all your answers ready for you here at our official FAQ section.
What we do know:
COVID does not look like it's going away
We put in place some safe COVID protocols last year and they worked!
You should know if you are comfortable or not about attending a music festival by now. Because of that, and to save us some crazy work hours, we are going to be a little more strict on our refund policy this year.
-Again… please check out the FAQ PAGE for more info before deciding to attend FEST 20.
FEST 20 MERCH/ FEST MAIL ORDER MERCH
This year the official FEST 20 MERCH will only be available weekend-of at FEST 20. We have decided in an effort to save our staff time and stress we will not be doing pre-order merch that you can pick up at registration.
You WILL be able to shop all the FEST MERCH at FEST OFFICIAL REGISTRATION and our FEST MERCH STAND at Bo Diddley Plaza all three days- while supplies last!
HERE IS A TASTE OF THE LIMITED FEST 20 MERCH WE WILL HAVE AVAILABLE THIS YEAR: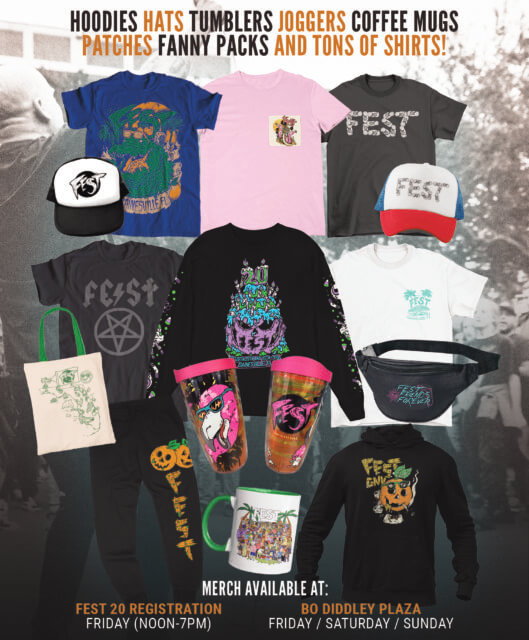 YOU WANT FEST MERCH NOW? CHECK OUT FESTSHIT.COM and see our official MAIL ORDER SITE. Grab some new gear and help us make room for the FEST 20 merch when it comes in!
FEST 20 OFFICIAL APP
The official FEST 20 app is here! Download it:
Get it today – you can check in on the weekend schedule, make your own schedule (and save it as fancy graphics you can post on Instagram and Twitter), check out the entire lineup, and find your way around Gainesville on the FEST venue map! Works offline too (except for schedule updates)!!!
The CHILLUMINATI has been making the FEST app since FEST 13! Don't forget to leave a nice review and rating on the App Store & Play Store to help out, or hit up their web store to show your support!
BE A PART OF THE FEST FAMILY
Follow us on the following social media platforms: FACEBOOK / TWITTER / INSTAGRAM
You will not only stay up to date with the news and announcements leading up to FEST 20 but when the event is going down you will be the first to get special announcements on who the MYSTERY BANDS will be as well as any last minute changes or surprises in the schedule!!!!!!!!!!!!!!!
Until then, pass some time by getting to know all the bands we have booked for the big anniversary by listening to the FEST RADIO PLAYER, and start planning out your trip to sunny FEST friendly Florida this fall to help us celebrate 20 YEARS OF FEST!
CHEERS!!!
-Tony and the FEST crew