COMEDY SHOWCASE ANNOUNCEMENT!
Monday, July 9
Hello FEST FRIENDS,
Welcome to full blown fucking summer fun. Is it hot as hell where you are yet? Here in Gainesville we are running for the water and can't wait 'til October when the temperature is fantastic, the PBR's are cold as ice, and all your friends and favorite bands are here to party down. Today we are super stoked to give you the FEST 17 comedy lineup & a few additional fun/ funny as fuck special sets we are bringing you this year.
Here is your FEST 17 independent comedy lineup:
We have once again invited back THE CHRIS GETHARD SHOW to be a part of FEST this year.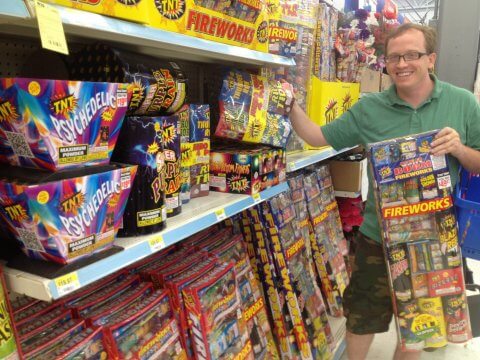 If you have not checked out the show peep those peepers this way. Every episode is totally different so you never know what TCGS has coming down the pipe, especially for FEST this year:
Full episodes & more videos: truTV: The Chris Gethard Show
They just aired their final episode for this season and it is questionable if TruTV will be renewing their contract. One thing we do know though is that Chris and the gang will be at FEST 17. Who knows what the fuck will happen with that one beautiful hour of chaos but what I do know is get there early because that fucker was jam packed last year!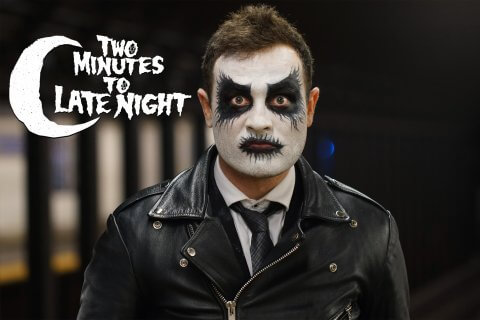 GWARsenio Hall and his creepy ass goons will be coming down to FEST this year. If you have seen the new corpse paint face of late night TV you know kinda what to expect. However, they have not told me jack shit about what they will be doing this year at FEST only a long list of really absurd and potentially illegal rider demands.
FEST 17 COMEDY SHOWCASE:
Once again we will be hosting these wonderful comics from all over at Rockey's on the Saturday and Sunday afternoon of FEST 17. This showcase has become an attendee favorite of FEST and is always packed out with a smart and respectful crowd. The comics will perform on each day so if you can't make it one day please stop in on the other day to soak up some AC, cocktails, and a chance to get off your tired ass feet for a bit. If you find that the sets conflict too much for you please go to each comic's profile page and check them out. These folks are super hard working and traveling from a far so your support goes a long long way.
Here is the lineup for Saturday and Sunday for Rockey's FEST 17 comedy showcase: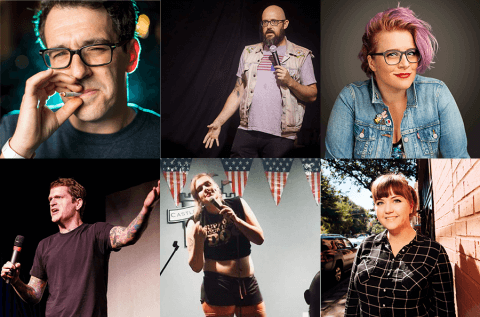 The Chris Gethard Show – New York, NY
Two Minutes to Late Night – New York, NY
Brandie Posey – Los Angeles, CA
Jaron Millan – Los Angeles, CA by way of Orlando, FL
Nathan Banditelli – Tamaqua, PA
Casey Bryant Crawford – Daytona Beach, FL
Goodrich Gevaart – Cincinnati, OH
Ismael Loutfi – Los Angeles, CA
Mary Jane French – Richmond, VA
For those of you that purchased your FEST 17 & PRE-FEST 6 passes while they were cheap (before July 1st) congrats and thanks! For those of you that have not purchased your passes yet click HERE to purchase now. FEST IS HALF WAY TO BEING SOLD OUT!!! This is the fastest we have sold passes in advance since we expanded our capacity by adding Bo Diddley Plaza. Guess we did something right this year!
FEST 17 CONFIRMED BANDS:
Just incase you forgot or are just new to the FEST site here is a small taste of who has been announced:
The Get Up Kids, Lagwagon (20 Year Anv. full album set of LET'S TALK ABOUT FEELINGS), Cursive, Piebald, The Menzingers, The Lawrence Arms, The Flatliners, Mock Orange (Nines and Sixes 20th Anniversary), Masked Intruder, Dead to Me, METZ, Tim Barry, Radioactivity, Iron Chic, RVIVR, The Stereo, TORCHE, Rozwell Kid, Nothington (last FEST show), Lemuria, The Copyrights, Pkew Pkew Pkew, PEARS, Bad Cop/ Bad Cop, Direct Hit, War on Women, Riverboat Gamblers, Crusades (Farewell Show), Audio Karate (Reunion), Mom Jeans, Drag the River, Report Suspicious Activity, Mustard Plug, Banner Pilot, Comeback Kid, The Bollweevils, Frameworks, Sundowner, Brendan Kelly, Weakened Friends, Whiskey & Co., Doc Hopper, Slingshot Dakota, Dikembe, Elway, Signals Midwest, Meat Wave, RADON, Broadway Calls, Daggermouth, Night Birds, Tsunami Bomb, Red City Radio, Timeshares, Tiltwheel, A Vulture Wake, Drakulas, and a shit load more!!!!
For a complete list of who is playing check out the BANDS PAGE.
HOTELS:
There are just a few hotel packages available in Gainesville and Ybor City! Click on the city name to get more info about the hotels available and grab a room before they're all gone!
Need a ride from Tampa to Gainesville on October 26th? Or from Gainesville to the Tampa airport on October 29th? Check out our tight charter bus that'll take you there!
FEST WRESTLING's SUPER SHOW – WE ARE FAMILY ANNOUNCEMENT COMING JULY 30th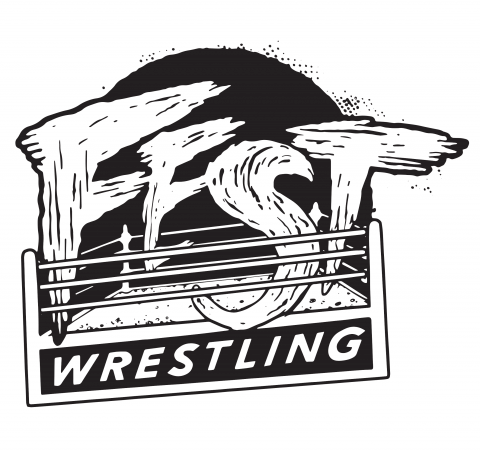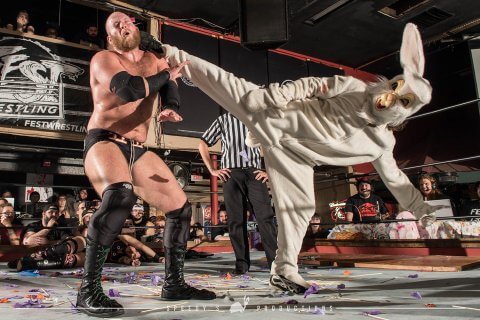 FEST WRESTLING has been going strong trying to change people's perceptions on what can and should be done in the world of spots entertainment. If you have not checked out what FEST WRESTLING has been doing over the past two years check out the FW YouTube channel also, FEST WRESTLING has two shows lined up this month. JULY 21st @ 8 Seconds in Gainesville for XMAS IN JULY 2 and JULY 22nd vs. PWX in Charlotte, NC!
The WE ARE FAMILY show on Sunday OCT 28th of FEST 17 will feature all the FEST WRESTLING family as well as stars from other promotions that FW are super good buds with.
If you want a taste of what the show was like last year again check out the FEST WRESTLING YouTube channel to see just how fun and wild shit gets at our party!
SCHEDULE LOVE:
Been working super hard on the FEST 17 and PRE-FEST 6 schedule and we are still shooting to release both schedules on AUGUST 13th!!!
We are once again taking over Historic Ybor, FL for two days leading up to FEST 17. So, look into cheaper flight options into Tampa, FL and join us and about 60 bands in three venues for two days leading up to FEST 17 in Gainesville. We also have an amazing shuttle bus service we like to call the Fest Express that will get you quickly and safely to Gainesville for FEST 17 on Friday Morning and return you to the Tampa airport on Monday morning if you choose. While you are in Ybor for PRE-FEST 6, we have two hotels in walking distance to all the venues and eateries in Historic Ybor City. So, we not only have amazing bands doing special sets in smaller venues but we have your entire stay covered easily for you. Feel free to ask past PRE-FEST attendees, and they will tell you it is a fucking blast and an easy and affordable way to catch all the bands you love early so you can fit more in while you are in Gainesville. Check out the PRE-FEST 6 lineup to see who will be coming to Florida early and playing some "special" sets for you all who come early to PRE-FEST 6!!!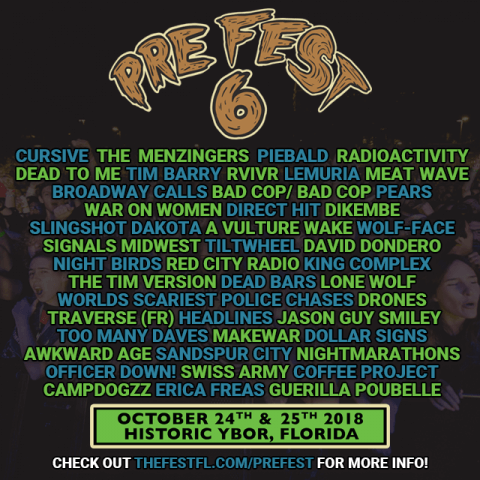 HOT NEW MERCH ITEMS!!!
Check out the new official merch for FEST 17 & PRE-FEST 6 as well as some old favorites we will have up for sale this year:
NEW FANNY PACK!!!!!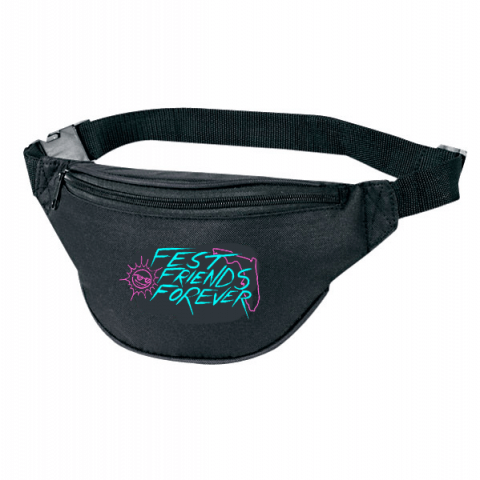 FEST offsets the carbon footprint of the venues, but that doesn't account for the carbon footprint of attendee travel which makes up 98.1% of FEST's overall footprint. We're asking you to do your part by offsetting the carbon footprint of your travel to and from FEST. We're working with the local environmental nonprofit We Are Neutral to offset your carbon footprint, right here in Gainesville. The cost to offset the average trip to FEST is $5. Please add these offsets to your purchase in the name of a healthier planet!
For more info about We Are Neutral, visit http://www.weareneutral.com.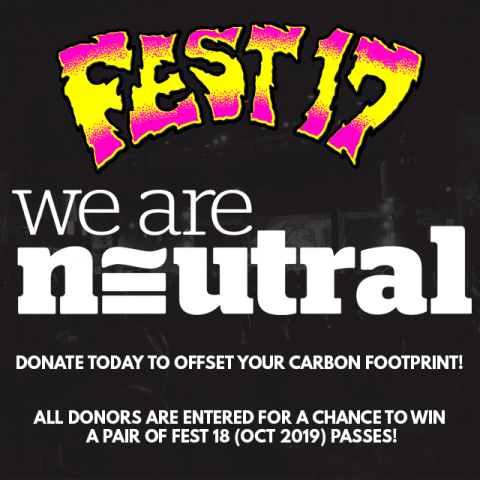 BE A PART OF THE FEST FAMILY
Follow us on the following social media platforms:
You will not only stay up to date with the news and announcements leading up to FEST 17 & PRE-FEST 6, but when the event is going down you will be the first to get special announcements on who the MYSTERY BANDS will be as well as any last minute changes or surprises in the schedule!!!!!!!!
Don't forget to listen to the FEST RADIO PLAYER and start planning out your trip to sunny FEST friendly Florida this fall to help us celebrate FEST 17 and PRE-FEST 6!!!
Enjoy the summer lovin' and we will see you all back here for the next update **FEST WRESTLING ANNOUNCEMENT** on JULY 30th.
CHEERS,
Tony & THE FEST 17 crew