*** This update was written before FEST 19 was postponed to 2021. It may no longer be accurate. Please review the postponement announcement and the site FAQ to get the most up-to-date information about FEST 19. ***
---
ANOTHER BIG BATCH OF BANDS CONFIRMED FOR FEST 19!!!!
Friday, May 1, 2020
Here it is!!! The 2nd big ass batch of bands we have lined up to party with us for FEST 19!!!
2nd BATCH OF CONFIRMED BANDS FOR FEST 19!
*FLORIDA EXCLUSIVE*
*FLORIDA EXCLUSIVE*
*FLORIDA EXCLUSIVE*
*FLORIDA EXCLUSIVE*
*FLORIDA EXCLUSIVE*
*FLORIDA EXCLUSIVE*
*FLORIDA EXCLUSIVE*
"The Things We Do" 5 YR. ANV
"Semper Liberi" 10 YR. ANV
*FLORIDA EXCLUSIVE*
ALSO ADDED TO FEST 19!!!
War on Women, Doc Hopper, Worriers, Tightwire, Timeshares, John-Allison Weiss, Frameworks, The World/Inferno Friendship Society, Peelander-Z, Tiltwheel, Kepi Ghoulie & BFace, Free Throw, Mikey Erg, Pet Symmetry, Annabel, blis., Assholeparade, RADON, The Eradicator, Banquets, Night Witch, The Jukebox Romantics, The Callous Daoboys, Matamoska, Catbite, Freezing Cold, The Anti-Queens, Short Fictions, Sic Waiting, Grey Matter, Omnigone, Mover Shaker, The Best of the Worst, Swiss Army, Get Married, The Dollyrots, Ramona, Rebuilder, Shehehe, The Raging Nathans, Oceanator, Hit Like A Girl, PeZ, Gillian Carter, Sarchasm, Grumpster, Teenage Halloween, Evening Shadows, Madison Turner, Hans Gruber and the Die Hards, Long Neck, Nervous Dater, wolves&wolves&wolves&wolves, No Win, Movin' In Stereo (SE), Days N Daze, Bridge City Sinners, Crazy and the Brains, Sunshine State, NOMORE, Came and Took It, Rutterkin, School Drugs, Garrett Dale, Sam Russo (UK), GUERILLA POUBELLE (FR), Tiny Stills, The Slow Death, Big Sad, DBOY, Western Settings, Kid You Not, DFMK, Faux Replika, 430 Steps, Post Teens, Canadian Rifle, Nightmarathons, Coffee Project, Notches, Too Many Daves, worlds scariest police chases, The Tim Version, Boss' Daughter, The Randy Savages, Vacancy, Florida Man, awakebutstillinbed (acoustic), Burnt Tapes (UK), Triple Sundae (UK), Papers, DECENTES (PR), Kittyhawk, Mush, Caffiends, Alright, Late Bloomer, Faye, Pike Co., Weakened Friends, Plasma Canvas, The Winter Passing (IR), Paige Beller, Quiet Fear, Pseudo, Worst Party Ever, Lilac Queen, Palomino Blond, Wailin Storms, Attic Salt, 500 Miles to Memphis, Champagne Colored Cars, The Run Up (UK), Laraigné (Greg Laraigné), Boston Marriage, Lost In Society, Catholic Guilt (AU), State Faults, Ducking Punches (UK), Bravely, Bothers, Lovelorn, The Pauses, Andrew Paley, Trophy Jump (Croatia), Biitchseat, Kevin Nichols, Year of the Fist, Destroy Orbison, Juan Richardo Yilo, Canopy, LTD, Sad Girlz Club, Hunger Anthem, Flying Raccoon Suit, The Warhawks, Moonraker, Lightweight, Pangolin, Talk Me Off, Bashful, Loose Behaviour, Wax Wings, GILT, Shark Anatomy, Gimme, American Television, The Lucky Eejits, Odd Robot, Washers, Orbiter, Hey Chels, Doc Hammer, Stunner, Horsewhip, Danger Inc., Cursed Birth, Blind Adam & The Federal League, City Windows, Weatherstate, Chris Fox, XED OUT, Goalkeeper, Cool Grandma, Ball of Light, ShotClock, The Early Thirties, Broken Record, Dirty Rotten Revenge, Lettermans, Friendly Fire, Minimum Rage, and Bacchae.
Make sure to check out the BANDS page for a full list of who we are confirming today and back in April like:
Hot Water Music (NIGHT ONE- A FLIGHT AND A CRASH / NIGHT TWO – ALL FAN REQUESTS) Frank Turner, Cursive (Domestica 20YR ANV), SAMIAM (20YR ANV of Astray), Sparta, Tim Barry, The Flatliners (10YR ANV of Cavalcade), Red City Radio, Strike Anywhere, Torche, Good Riddance, Modern Life is War, A Wilhelm Scream, The Appleseed Cast, Mustard Plug, The Copyrights, Moving Targets, Gouge Away, Prince Daddy & the Hyena, Graduating Life, Giants Chair, Signals Midwest, Dollar Signs, Kill Lincoln, MakeWar, Bong Mountain, Sincere Engineer, Dikembe, Zeta, Taking Meds, Slingshot Dakota, Devon Kay and the Solutions, Pool Kids, Dead Bars, The Bad Signs, Origami Angel, Wolf-Face, Skatune Network, We Are The Union, Such Gold, Typesetter, Criteria, Mock Orange (20YR ANV of The Record Play), The Farewell Bend (playing In Passing)", and many many more!!!
Also, take note that bands marked "FL Exclusive" will NOT be touring around Florida, so you can only catch them in GAINESVILLE for FEST 19.
FEST 19 PASSES
Passes are on sale NOW! CLICK HERE TO BUY YOUR FEST 19 PASS!!!
We have only 100 discounted passes left at $180. Grab them now while they are cheap cheap cheap!!!
1,100 TOTAL FEST PASSES LEFT AS OF MAY 1st -2020. After that we will be sold the fuck out of passes.
REFUND POLICY
If for any reason we have to cancel or you for any reason can not make it to FEST 19 WE WILL GIVE REFUNDS. Life is unpredictable, now more than ever, but if you decide you want to buy tickets now and something in your life changes, know that we have your back.
For more info please visit TICKETS, FAQ, and HOTELS for how refunds will work.
OFFICIAL FEST 19 HOTELS
We are once again partnering with the HOLIDAY INN UNIVERSITY CENTER and WYNDHAM GARDEN here in Gainesville. These will be our official hotels and both will be hosting awesome welcome pool parties for guests. Stay in a sold out hotel full of FEST FRIENDS.
CLICK HERE TO BOOK YOUR HOTEL!!!
NEW FEST MERCH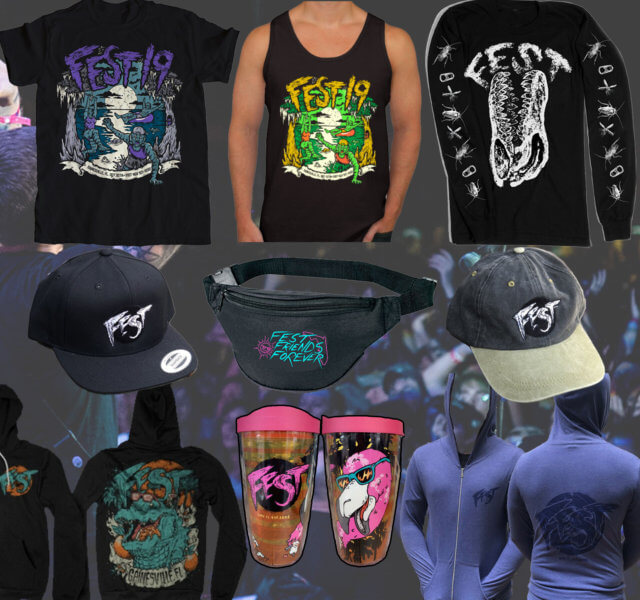 CLICK HERE TO BUY YOUR FEST MERCH IN ADVANCE AND GUARANTEE THE SIZE YOU WANT.
FEST EXPRESS TO ORLANDO
NEED A RIDE TO ORLANDO AIRPORT (MCO) ON MONDAY NOVEMBER 2nd?
Don't look any further, because we have you covered! You can ride in style with a bunch of other FEST FRIENDS on the FEST EXPRESS. We have partnered with a top notch charter bus company. Each bus has 55 seats. We are calling this sweet ride the FEST EXPRESS. This premium coach bus service comes with cold cold A/C, restrooms, large luggage area, free Wi-Fi & DVD entertainment system where we will be screening a movie of Tony's choosing! Also, when you get on the FEST EXPRESS you will be given a very special FEST EXPRESS t-shirt that no one else will be able to purchase.
The bus leaves straight from the Holiday Inn in Gainesville on MONDAY 11/2 at 11:00am and goes direct to the Orlando International Airport (MCO). Seats are limited so grab yours now. Bus seats can be purchased in the web store on the ticket page.
It will take 2 – 2.5 hours for your non-stop trip depending on traffic. There are NO STOPS!!! ONE WAY STRAIGHT RIDE BABY!
CLICK HERE FOR MORE DETAILS ABOUT THE FEST EXPRESS TO ORLANDO!
FEST AT HOME- WEEKLY FACEBOOK LIVE SERIES
While we are all at a stand still with live shows we have decided to open our virtual doors to the world and offer up a weekly FACEBOOK LIVE series called FEST AT HOME. Every Thursday night, at 7pm EST, tune into the FEST Facebook account and watch a curated show featuring at least five FEST 19 performers from their home to yours. Make sure to follow us on social media so you know who is performing each week.
GRACE MARKETPLACE / WE ARE NEUTRAL
We are happy this year to once again donate $1 from every FEST 19 pass sold to GRACE MARKETPLACE to provide safe shelter, effective services, and permanent housing solutions to end homelessness in Gainesville. Last year, GRACE used the money raised from FEST + the awesome raffle by Anthem Tattoo to get almost THIRTY PEOPLE off the streets and into a home!
We are also partnering once again with WE ARE NEUTRAL to offset the carbon footprint of our venues at FEST 19. You too can calculate your carbon footprint from your travel to FEST 19 and make a simple donation to help offset when you check out.
You can learn more about these organizations on the SOCIAL IMPACT page.
BE A PART OF THE FEST FAMILY
Follow us on the following social media platforms: FACEBOOK / TWITTER / INSTAGRAM
You will not only stay up to date with the news and announcements leading up to FEST 19 but when the event is going down you will be the first to get special announcements on who the MYSTERY BANDS will be as well as any last minute changes or surprises in the schedule!!!!!!!!!!!!!!!
I know there is a lot to take in right now so take some time to enjoy what we have cooked up for you. Explore all the bands we have booked. Take your time. There are over 300!!!
Listen to the FEST RADIO PLAYER too. That is a rad way to find out about a ton of new bands…even if you can't make it to FEST this year.
Start planning your trip to sunny, FEST friendly, Florida this fall to help us celebrate 19 years of being awesome to each other!
Thanks! We will see you back on here JUNE 5th at 9AM EASTERN TIME when we will announce the FEST 19 COMEDY LINEUP!!!!
Cheers!
-Tony and the FEST crew