*** This update was written before FEST 19 was postponed to 2021. It may no longer be accurate. Please review the postponement announcement and the site FAQ to get the most up-to-date information about FEST 19. ***
---
ANNOUNCING FEST 19!!!!
Friday, April 3, 2020
HEY FEST FAMILY,
Happy FEST SITE LAUNCH DAY!!! We hope all of our friends around the world are safe and well. We all know that these are strange times as everyone has altered how they live their lives. We here at FEST wanted to give you a little light at the end of the tunnel. We all hope things get better world wide and really hope that the spread of COVID-19 calms down in the months to come so that we can all, more than ever, come together to celebrate the bands, comedians, wrestlers and the friends we love.
Today we give you the first batch of bands confirmed for FEST 19.
Check out the BANDS page for a full list of who we are confirming today. Also, take note that bands who have "FL Exclusive" badges will NOT be touring around Florida, so you can only catch them in GAINESVILLE for FEST 19. We here at FEST HQ all have been working our asses off since December to bring you yet another stacked initial lineup of the BEST INDEPENDENT BANDS from all over the world who will converge on Florida to make FEST 19 the BEST FUCKING FEST FAMILY REUNION EVER!!!
---
CONFIRMED BANDS FOR FEST 19 SO FAR:
HWM have decided, for their return back home, to do something really fucking special for us all.
They will be playing TWO NIGHTS! Both headlining Bo Diddley Plaza. (NIGHT ONE- A FLIGHT AND A CRASH full album play/ NIGHT TWO – ALL FAN REQUESTS)
We will post later just how the band will handle the requests but I do know it will be an online deal. They are not gonna just let you drunkenly holla out shit.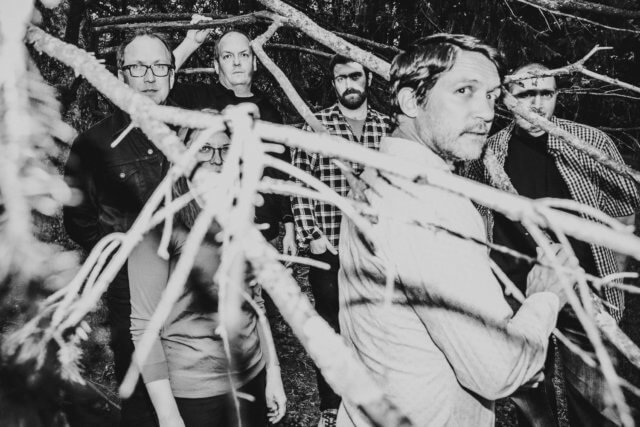 Looks like Cursive loved FEST so they are coming back and also have something rad planned for us all.. For their set at Bo Diddley Plaza they will be celebrating the 20 YR ANV of Domestica and will play the album in full!!!
---
Speaking of the 90's/ early 2000's bands that we talked into joining the party…
(playing their classic album  In Passing in full )
Celebrating the 20 YR ANV of their album The Record Play.
---
HERE ARE SOME OLD FRIENDS WHO ARE COMING BACK TO PARTY WITH US:
Celebrating the 10 YR ANV of Cavalcade
---
MORE BANDS YOU SAY? HELL YEAH!!!
ALSO CONFIRMED FOR FEST 19: A Wilhelm Scream, The Copyrights, Mustard Plug, Moving Targets, Prince Daddy & the Hyena, Graduating Life, Signals Midwest, Dollar Signs, Kill Lincoln, MakeWar, Bong Mountain, Sincere Engineer, Dikembe, Zeta, Taking Meds, Slingshot Dakota, Devon Kay and the Solutions, Pool Kids, Dead Bars, The Bad Signs, Origami Angel, Wolf-Face, Skatune Network, We Are The Union, Such Gold, Typesetter, Answering Machine, Lone Wolf (NE), After the Fall, Virginity, Pohgoh, Cold Wrecks, Expert Timing, Alice Bag Band, Cabana Wear, Kali Masi, Riskee & The Ridicule (UK), The Scutches, Tim Holehouse (UK), LAPêCHE, Insignificant Other, SPELLS, New Junk City, Pity Party, Rational Anthem, Little Teeth (DE), Reconciler, SUNLINER (UK), Lost Love, Billy Liar (UK), Teen Agers, niiice., Jail Socks, Demons, Telethon, Secret Spirit, Debt Neglector, You Vandal, Articles, I like Allie (IT), Suck Brick Kid, S.M.N. (Japan), Elders, Leg Biters, Machinist!, Sports Reference, Woolbright, Postage, Amygdala, Brightr, Dead Friends, Dog Party, Soft Clicks, Sparrows, The Longest Hall, Carpool, Original Sharks, Ghouli, Menagramo (IT), Guilhem (Full Band), Gutless, Consent, Echo Base, AND MORE TO COME!!!
Mark your calendars and buy a bottle of champagne because we will be doing another massive batch of bands playing FEST 19 on MAY 1st at 9am EST.
---
FEST 19 PASSES
Passes are on sale NOW!
Every 500 passes sold = PRICE INCREASE. Grab them now while they are cheap cheap cheap!!!
CLICK HERE TO BUY YOUR FEST 19 PASS!!!
REFUND POLICY
If for any reason we have to cancel or you for any reason can not make it to FEST 19 WE WILL GIVE REFUNDS. Life is unpredictable, now more than ever, but if you decide you want to buy tickets now and something in your life changes, know that we have your back.
Due to a recent change from our credit card processing company- ALL refunds will be processed and returned to the original payment method minus 3.25% credit card processing fee for domestic orders and a 5% credit card processing fee for international orders. We will also not be able to refund the ticket fee from Limitedrun.com ($2 per ticket) or the donation to GRACE MARKETPLACE ($1 per ticket).
For more info please read TICKET INFO, the FAQ, and OFFICIAL FEST HOTELS for how refunds will work.
The official THE FEST 19 – 3 DAY PASS gets you access to all the shows officially associated with THE FEST 19 in Gainesville, FL from October 30th, 31st & November 1st- 2020.
WE WILL ONLY BE SELLING 3,000 (3-DAY PASSES) FOR THE FEST 19! DON'T SNAIL AND CRY LATER THAT YOU MISSED OUT ON THIS EPIC PARTY!!!
FEST 18 SOLD OUT SUPER FAST!!! 
FEST 19 passes will be sold in a tiered pricing.  Once a pricing block is sold out, the next highest price will be available. BUY YOUR TICKETS EARLY AND SAVE MONEY!!! $1 from every FEST 19 pass sold will be donated to GRACE MARKETPLACE to end homelessness in Gainesville. 
Tiered Pricing:
WEEKEND OF PRICE (IF NOT ALREADY SOLD OUT)- FEST 19 -3 DAY PASS  = $200
---
OFFICIAL FEST 19 HOTELS
We are once again partnering with the HOLIDAY INN UNIVERSITY CENTER and WYNDHAM GARDEN here in Gainesville. These will be our official hotels and both will be hosting awesome welcome pool parties for guests. Stay in a sold out hotel full of FEST FRIENDS.
CLICK HERE FOR HOTEL INFORMATION!!!
---
NEW FEST MERCH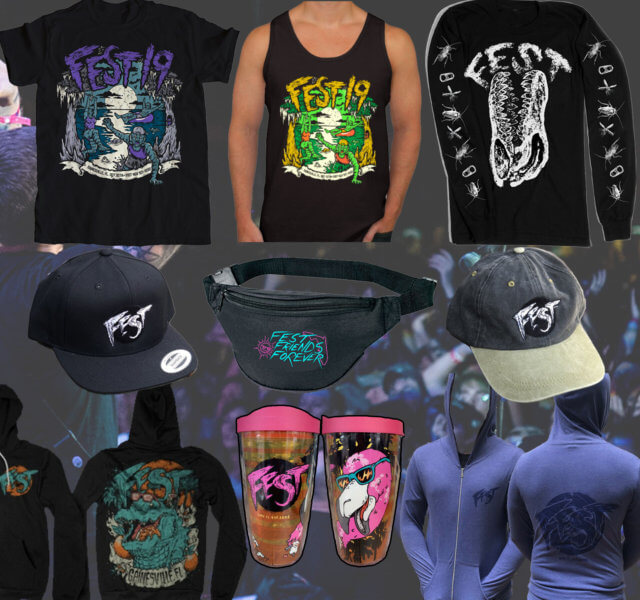 CLICK HERE TO BUY YOUR FEST MERCH IN ADVANCE AND GUARANTEE THE SIZE YOU WANT.
---
FEST EXPRESS TO ORLANDO
NEED A RIDE TO ORLANDO AIRPORT (MCO) ON MONDAY NOVEMBER 2nd?
Don't look any further, because we have you covered! You can ride in style with a bunch of other FEST FRIENDS on the FEST EXPRESS. We have partnered with a top notch charter bus company. Each bus has 55 seats. We are calling this sweet ride the FEST EXPRESS. This premium coach bus service comes with cold cold A/C, restrooms, large luggage area, free Wi-Fi & DVD entertainment system where we will be screening a movie of Tony's choosing! Also, when you get on the FEST EXPRESS you will be given a very special FEST EXPRESS t-shirt that no one else will be able to purchase.
The bus leaves straight from the Holiday Inn in Gainesville on MONDAY 11/2 at 11:00am and goes direct to the Orlando International Airport (MCO). Seats are limited so grab yours now. Bus seats can be purchased in the web store on the ticket page.
It will take 2 – 2.5 hours for your non-stop trip depending on traffic. There are NO STOPS!!! ONE WAY STRAIGHT RIDE BABY!
CLICK HERE FOR MORE DETAILS ABOUT THE FEST EXPRESS TO ORLANDO!
---
GRACE MARKETPLACE / WE ARE NEUTRAL
We are happy this year to once again donate $1 from every FEST 19 pass sold to GRACE MARKETPLACE to provide safe shelter, effective services, and permanent housing solutions to end homelessness in Gainesville. Last year, GRACE used the money raised from FEST + the awesome raffle by Anthem Tattoo to get almost THIRTY PEOPLE off the streets and into a home!
We are also partnering once again with WE ARE NEUTRAL to offset the carbon footprint of our venues at FEST 19. You too can calculate your carbon footprint from your travel to FEST 19 and make a simple donation to help offset when you check out.
You can learn more about these organizations on the SOCIAL IMPACT page.
---
BE A PART OF THE FEST FAMILY
Follow us on the following social media platforms: FACEBOOK / TWITTER / INSTAGRAM
You will not only stay up to date with the news and announcements leading up to FEST 19 but when the event is going down you will be the first to get special announcements on who the MYSTERY BANDS will be as well as any last minute changes or surprises in the schedule!!!!!!!!!!!!!!!
I know there is a lot to take in right now so take some time to enjoy the new site. Explore all the bands we have booked so far. Listen to the FEST RADIO PLAYER, and start planning out your trip to sunny FEST friendly Florida this fall to help us celebrate FEST 19!
Thanks! We will see you back on here MAY 1st at 9AM EASTERN TIME for another awesome batch of bands joining us for the party!
Cheers!
-Tony and the FEST crew