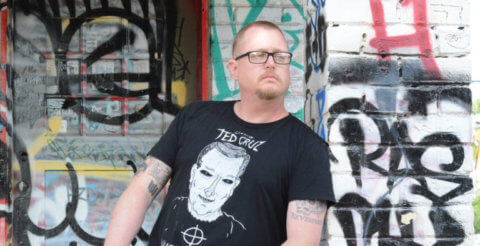 JT Habersaat
Austin, TX
Bio
Headliner of the long-running Altercation Punk Comedy Tour, JT Habersaat is based out of Austin, Texas. He has three releases currently available on the Grammy-winning imprint Stand Up! Records, and has been seen on Comedy Central and in Troma Films. JT has acted as support for Henry Rollins, Brian Posehn, Kyle Kinane and many more, been heard on the Doug Stanhope Podcast, Eddie Pepitone's Pep Talks Podcast and many more, and performed at festivals such as Punk Rock Bowling Las Vegas, Pouzza Montreal, Fun Fun Fun Fest Texas and many more. He has written two books, curates the Altercation Comedy Festival each September in Austin, TX and hosts TheRoadPodcast.com every Tuesday. He likes bourbon and your pets.
IF YOU HAD A SUPERPOWER, WHAT WOULD IT BE?
Flight, so I could forever be done with shitty airlines.
BAND(S) MOST EXCITED TO SEE: Off With Their Heads, Lillingtons, Tim Barry, The Bronx, Stiff Little Fingers, Against Me!