The Spotlight: FEST 1 vets, More Record Release Sets, and… a Wedding Reception?!
Friday, October 25, 2019
The week of Fest is almost upon us! This means I'm basically running around town getting things together last minute with a slightly manic look in my eye but I've got one more batch of bands to cast the spotlight on for you before the party starts!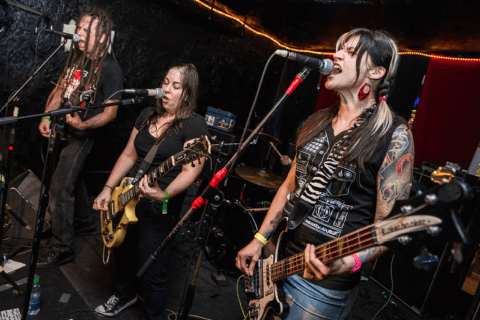 I'm not sure why I haven't been able to find any recent pictures of NOMORE's Fest performances and had to go back into the archives and Fest 11 when Heather of Teen Idols and Bullets to Broadway fame was on bass duties, and the band were performing at the sadly now-defunct 1982Bar but that goes some way to giving you an idea of their Fest-vet status. In fact, NOMORE has played at EVERY SINGLE GODDAMN FEST! WHAT?!!

"Fest #1, we barely made it onto the Fest. I guess NOMORE and some other bands had asked to play and since there weren't any spots left open for us, Tony endeavored to find an additional venue to accommodate more of us bands.  The "usual" venues were already hosting Fest shows, so they commandeered a long time "biker bar" a few miles down the block from downtown known as Eddie C's. After Fest broke it in, local punk/ska shows became part of their more regular rotation at Eddie C's in the years to come.  And there we happily played our first Fest showcase with a mixed line-up of friends and bands who would become friends. (We still have the T-shirt from year 1!)"

I feel like NOMORE could probably spend the entirety of their set telling stories from Fests past (make sure you ask them about the time they played an acoustic set in the Gator Dawgs bathroom!) but at this point it basically wouldn't be Fest without NOMORE rocking out and playing some tunes!
Which day: Saturday
What time: 3:50pm – 4:20pm
Which venue: Boca Fiesta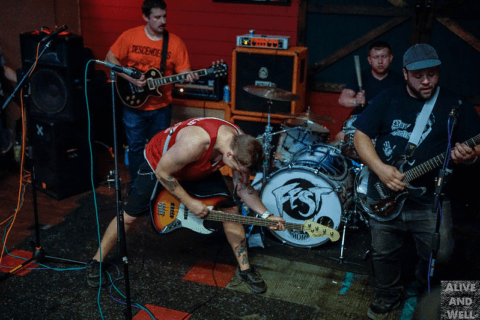 Fest vets themselves, After The Fall are celebrating their TENTH Fest this year and their set will also be the release show for their split 7 inch EP with Brutal Youth, released on Paper + Plastick.

"The Fest has become a huge component in After The Fall's career, we wouldn't trade it for anything!" – Mike

And at the other end of the scale, 3/4 of After The Fall are also playing in Postage who are making their first Fest appearance!
After The Fall
Which day: Friday
What time: 12:10am – 12:40am
Which venue: Boca Fiesta
Postage
Which day: Saturday
What time: 2:10pm – 2:40pm
Which venue: CMC Courtyard (Paper + Plastick showcase)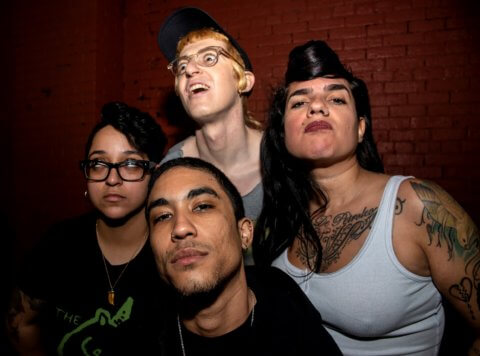 Choked Up's Fest set will also mark the release of their debut full-length record!

"Choked Up's DICHOSO CORAZON is the bands first full length record, chronicling 2 years of playing together, and 11 songs about naming toxicity, tearing down walls, and reclaiming our hearts and organs. Cristy C. Road is a Miami native who's been writing punk ballads about the dystopia, a'la early 90's Lookout! Records meets Jose Marti poems. Coming of age in FL punk, she drew melody inspirations from late 90's / early aughts Florida bands like Discount, Bitchin', Vanbuilderass, and Against Me! Feeling too weak for a red state, Road left to NYC in 2004; but always turning back. The Homewreckers, Road's 2008 band, debuted their first EP  'Daydreaming About Assholes' (Kiss of Death) at Fest 2009; and routed a tour of stomping grounds from Miami to Pensacola and Chattanooga. Choked Up now follows tradition, by debuting their first self-released Full length album DICHOSO CORAZON at Fest 2019. Choked Up undoubtedly pursue communities outside of their New York, Florida, and East Bay punk homes; existing in scenes devoted to queer music, musicians of color, Latinx music, salty garage rockers and sad emo freaks– but find it neccessary to maintain their roots; as sung about in the music video for "Home"; Dichoso Corazon's first single about finding safety in chaos. Dichoso Corazon is the culmination of new songs written from Road's mid-30's healed perspective; and 2 tracks– Nosebleeds, and Broken4Broken, written during a darker times riddled with drugs and hopelessness.  DICHOSO CORAZON will be available on CD, Cassette, Spotify, Bandcamp, and all digital platforms on NOVEMBER 1ST 2019!"
Which day: Sunday
What time: 3:50pm – 4:20pm
Which venue: Hardback Cafe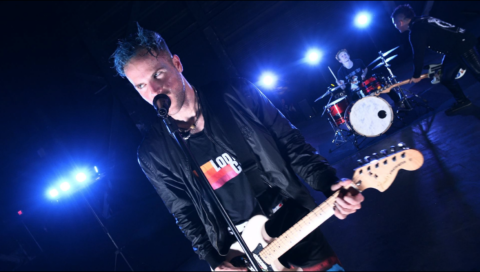 So, when I asked people playing Fest this year if they had anything special going on with their Fest set "wedding reception" wasn't particularly high on the list of things I expected to get in response but here we are! Television Supervision's bassist Zach is getting married to his fiancé Ollie during Fest and the band's set is going to be the reception! Holy shit!!

"Everyone is invited to come celebrate their epic punk rock wedding, so let's make the night extra special by selling out the venue!"

You heard them. I'm not sure there's much more I can add other than everyone at Fest HQ thinks this is incredibly awesome and can't wait to join the celebrations!
Which day: Sunday
What time: 8:00pm – 8:30pm
Which venue: Hardback Cafe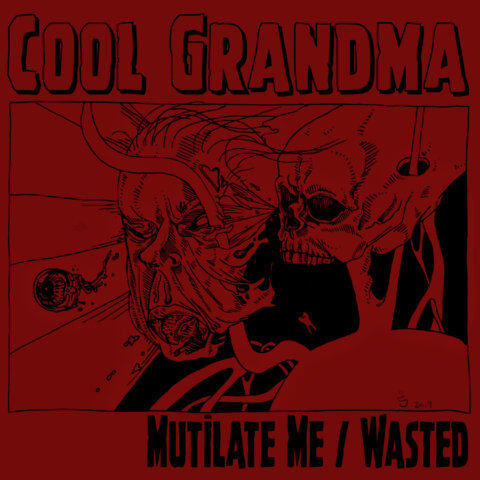 Orlando's Cool Grandma are releasing a very limited (only 20 copies!!) Fest exclusive lathe including a previously unreleased acoustic cover. Swing by and snag a copy if you can!
Which day: Sunday
What time: 2:40pm – 3:10pm
Which venue: Palomino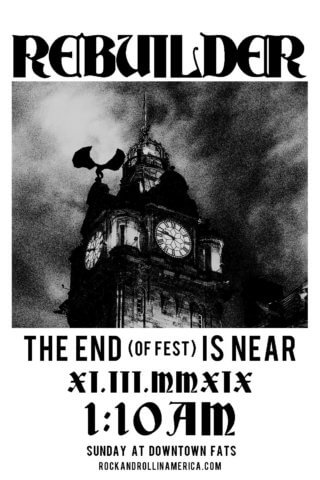 Rebuilder are bringing the curtain down on this year's Fest on the Sunday. Come along and witness the end of days. Just please don't bring any tomatoes with you.
Which day: Sunday
What time: 1:10am – 1:40am
Which venue: Downtown Fat's
I hope I haven't given you too many scheduling headaches with these posts and instead just a few cool sets for you to check out next week! That's right, NEXT WEEK, FRIENDS! See you all in a week!
– Alex