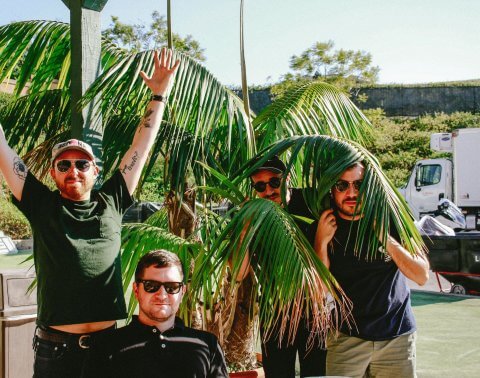 The Menzingers
Philadelphia, PA
Epitaph Records
Performing at:
Bio
For their fifth full-length After the Party, The Menzingers set out to make the quintessential jukebox record: an unstoppably melodic album primed for bar-room sing-alongs. Delivering anthemic harmonies, furious power chords, and larger-than-life melodies, the Philadelphia-based garage-punk four-piece amply fulfills that mission while achieving something much more deeply nuanced. With its delicately crafted storytelling and everyman romanticism, After the Party ultimately proves to be a wistful but life-affirming reflection on getting older but not quite growing up.
In the making of After the Party, The Menzingers also returned to longtime influences like The Clash, who were key to carving out their sound in the band's early days. Formed in 2006, The Menzingers made their debut with 2007's A Lesson in the Abuse of Information Technology and relocated to Philly in 2008. Over the years, the band steadily built up a devoted fanbase and—in 2012—saw their highly acclaimed Epitaph debut On The Impossible Past voted Album of the Year by Absolute Punk and Punk News. In 2014 they put out their fourth album Rented World, praised as "driving-around-with-the-windows-down music, ready for maximum blasting" by Pop Matters and "one of the best pop punk albums" of the year by Blurt.
Produced by Will Yip (Title Fight, Turnover, Circa Survive) and recorded in Yip's Conshohocken, PA-based Studio 4, After the Party finds the band breaking into new sonic terrain, such as in the stripped-down reverie of "Black Mass" and the drinking-song-inspired waltz of "Bars." At the same time, The Menzingers bring that sharpened songcraft to the lyrical element of each track, with songs like "Thick as Thieves" candidly recounting their shared misadventures ("Building castles with cans and bottles/Drinking like they do in novels"). And on "After the Party," the band spins poetry out of moments as mundane as listening to Minor Threat on a laptop, turning the track into a dreamy meditation on the innocence inherent in unabashed love of music ("Everybody wants to get famous/But you just want to dance in a basement").
Press:
"The passing of time has altered Mr. Barnett's songwriting for the better. What once arrived in raw splashes of energy has been thickened, complicated and smoothed." – The New York Times
"What is left is a superlative set of authentic punk songs that stand as their finest achievement to date." – Pop Matters
"America's reigning champions of pensive songwriting have done it again." – Noisey
"The Menzingers have never sounded as powerful as they do on After  The Party" – Uproxx