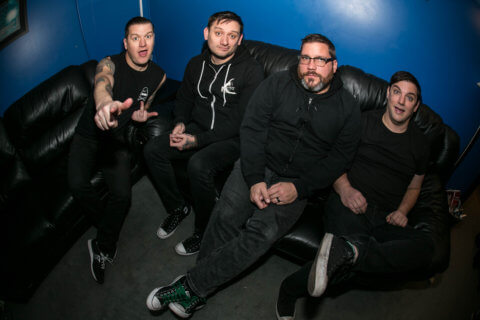 Teenage Bottlerocket
Laramie, WY
Fat Wreck Chords
Bio
Let's be honest. Teenage Bottlerocket has always been rad. Formed in Wyoming in 2000, they were rad when they released their debut album, Another Way, in 2003 and almost two decades – as the title of this eighth studio album suggests – they remain just as rad. Following on from 2017's Stealing The Covers – which, funnily enough, was a record of cover versions ­– these 14 short, snappy and stylish punk songs are centered around the songwriting chops of guitarists/vocalists Ray Carlisle and Kody Templeman (who also fronts The Lillingtons) and overflow with Teenage Bottlerocket's typical mix of humor and poignancy, silliness and melancholy. But it's also the first album of original material that the band – completed by bassist Miguel Chen and drummer Darren Chewka – made following the death of former drummer and Ray's twin brother Brandon in 2015.
"I'm definitely proud of it," says Ray. "It's cool how we all came together through something so tragic and made one of our best records. I think Brandon would really love it. Stealing The Covers really helped us get back on our feet and it was a cool in-between, but this record was something we wanted to make as excellent as possible."
"I think we all had him in the back of our minds while writing and recording it," adds Kody. "I'd like to think that he would be happy with how it turned out."
Recorded at The Blasting Room in Fort Collins, Stay Rad! – which will be released on March 15 – was produced and mixed by longtime collaborator Andrew Berlin and mixed by Jason Livermore. And in keeping with its title, it finds the band channeling the same riotous energy it had at the start. Its members might be older now, some married and with kids, but when it comes to writing songs together as Teenage Bottlerocket, absolutely nothing has changed. "We're doing what we've always done," says Kody, "which is writing fun songs and having a good time. It doesn't feel any different than it did when we started."
IF YOU HAD A SUPERPOWER, WHAT WOULD IT BE?
Replacing the word "love" with "lunch" in popular song titles.