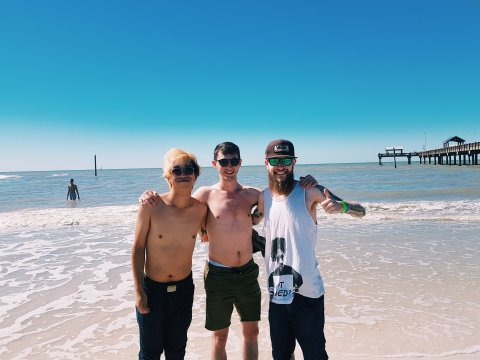 Hora Douse
Manchester, UK
Rose Coloured Records, Beth Shalom Records
Performing at:
Bio
Hora Douse ​​are a trio from Manchester, UK. Drawing from a distinct influence of powerful, emotive artists such as Manchester Orchestra & The Hotelier; the band cycles through genres at will – blending together their melodic hardcore roots, with a more sensitive and 'poppier' inclination.
Growing close as teens, their songwriting was molded by the scene around them – from touring with Petrol Girls, to playing alongside bands like Future of the Left, Tiny Moving Parts, Fresh, Milk Teeth, The Winter Passing, among others.
After a long pause, their most recent single ​Outgrow/Anything ​​in April 2018​ ​​created an empathic statement on mental health, depression, and its effect on important relationships.
"[Outgrow/Anything] is a track that exposes our collective fragility and how we can often feel at our most alone when surrounded by the people we love." ​- Sammy Maine, GoldFlakePaint
Recorded by ​Bob Cooper ​​(Nervus, Citizen, Self Defence Family), the follow-up single ​Buried continues this thread. It is unequivocally a song about isolation, loss, and dealing with the fact: conveyed in a punch, straight-to-the-point manner. Tom describes the song as an attempt to write a 'pop song about grief' – delivering their most concise track so far, with guest vocals from Sarah Sefton of ​Bad Idea​​.
FAVORITE PIZZA TOPPING: Despair, Weezer