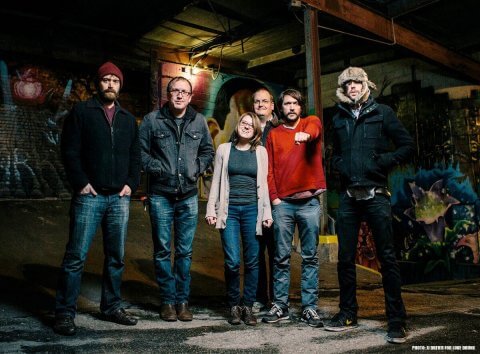 Cursive
Omaha, NE
15 Passenger
Performing at:
Bio
Cursive is the longtime trio of Tim Kasher (vocals, guitar), Matt Maginn (bass), and Ted Stevens (guitar, vocals), with Patrick Newbery (keys), Megan Siebe (cello) and Cully Symington (drums).
Cursive has released seven full-length albums garnering critical from publications including Alternative Press, Billboard, Magnet, New York Times, Punknews, Pitchfork, Spin, Consequence of Sound, Playboy, Rolling Stone, and Time Out New York, among others, and earned the band their network television debut on The Late Show with David Letterman. – including the heralded Cursive's Domestica (2000), The Ugly Organ (2003), and Happy Hollow (2006), Mama, I'm Swollen (2009), I Am Gemini (2012) – two EPs, a disc of rarities, and numerous singles since the band's 1995 inception.
Cursive plans to release their eighth album in the Fall of 2018 just in time for FEST!
The band is known for their vital, magnetic live show, earning rave reviews from outlets including the Cleveland Scene's C-Note music blog ("[Tim Kasher's] effect on the crowd was chilling last night…Cursive was focused and on-spot, composed and gripping"), Nuvo Weekly ("…the five-piece slashed through a near-perfect set of songs from their last nine years of albums""), and the Orlando Sentinel's Soundboard blog ("…the band still knows how to rock on stage…[Cursive] thrashed away with an abandon that heightened the passion of Kasher's dense, emotionally charged wordplay.").
FAVORITE PIZZA TOPPING: Mushrooms