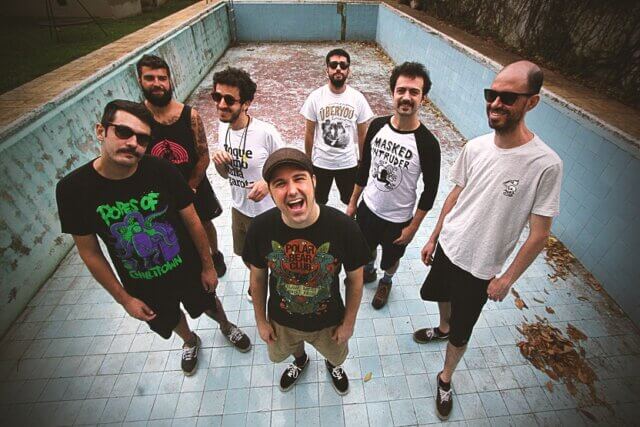 Abraskadabra
Curitiba, Brazil
Bad Time Records
Bio
Abraskadabra are making some of the best ska punk in the world right now… and they've got the miles (and riffs) to prove it.
From Curitiba Brazil, the band seamlessly blends Pop-Punk, Skate-Punk, and Ska, with endless hooks, tailored horn lines, and a global lyrical perspective to create an explosively fun punk rock experience. 18 years, 3 demo tapes, 2 EPs, and 2 LP's, have culminated in "Make Yourself At Home"; the band's new album, out September 24th on Bad Time Records.
Abraskadabra's previous effort, "Welcome", was released in 2018 and its title was almost like a premonition. Voted second best ska-punk album of the year by Ska Punk Daily, the album welcomed worldwide attention and prompted the band to tour the US, Japan, and the UK, with appearances at Rebellion Fest and Boomtown fair. Closer to the home the band continued a rigorous touring schedule, sharing the stage with bands like Reel Big Fish, Less Than Jake, Goldfinger, Mad Caddies, and Streetlight Manifesto. They even caught the attention of Vinnie Fiorello, who appointed them as one of the most promising bands of that year: "The blend of skate punk, ska and pop punk is balanced and executed flawlessly. Tight horns, fast drums, flashy runs, all tightly wound by great melodies."
Now, three years after greeting those who have arrived, Abraskadabra wants all of them – all of you – to feel at home. The writing process of the new album started a year and a half ago, but it was given a boost since COVID-19 hit the world. With no pubs, parties or concerts to go to, music served as a companion for many people, and that's how the concept of "Make Yourself at Home" was born. "Not only do we want our fans to feel at home, but we also want them to find themselves at home and once again feel welcomed – this time to our new home", says guitarist and vocalist Eduardo "Du".
The album is not just a sequel to "Welcome", but a huge step forward in the band's discography. "Make Yourself at Home" reinforces the formula of striking riffs and sing along choruses, but refines lyrics, melodies and horn lines even more – all without losing the band's typical heaviness. The lyrics on this new album – written mainly by the trio Trosso, Du and Buga – address a variety of themes both personal and political, from lovesick anthems to protest songs rallying against Brazil's current regime.
Abraskadabra showcases a passion and energy that is a hallmark of the current generation of "New Tone" ska bands. They fit in perfectly alongside label mates We Are The Union, Kill Lincoln, and Catbite, but their uniquely aggressive spin on the genre has them once again, as their peers did, elevating the entire movement. This new album will have you hitting repeat, shaking your head as you wonder why it took you so long to hear about this band.
WHAT'S YOUR FAVO(U)RITE ANIMAL?
Dogs