x-posted
I've put together this show next month to help out the wife of my friend Jake who passed away in May. His wife/family are left with extensive medical bills from his hospital stay prior to his death.
Proceeds from this show are going straight to help her out.
Details: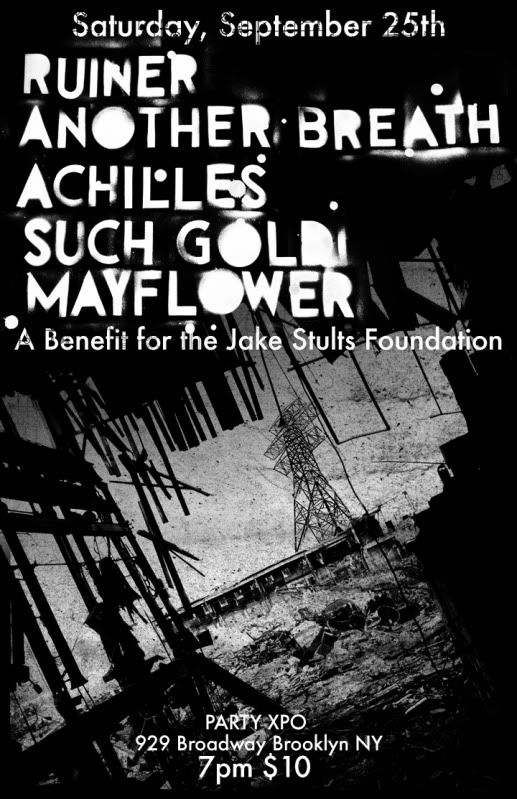 Saturday, September 25th @
PARTY EXPO
929 Broadway
Brooklyn NY
A BENEFIT FOR THE JAKE STULTS FOUNDATIONw/:
RUINER (one of their final shows!)
ATTICA! ATTICA! (Aaron Scott acoustic, ex-Marathon/De La Hoya, special guest addition!)
ANOTHER BREATH
ACHILLES
SUCH GOLD
MAYFLOWER (feat. members of AB)
http://genericinsightradio.bigcartel.co ... -mayflower
Click that link to purchase an advance ticket.
7pm doors
ALL AGES
PROCEEDS FROM THIS SHOW WILL GO TO BENEFIT THE JAKE STULTS FOUNDATION.
For more information or to donate some on your own, go to:
http://jakestultsfoundation.blogspot.com/
http://jakestults.org
*There will also be a raffle at this show for various merch and things, including vinyl test presses from POLAR BEAR CLUB (who wanted to play the show but couldn't due to a conflict!) and a Hex Records prize package. Raffle proceeds also go towards the benefit.
*Teddy Casper, vocalist of Mayflower, will be selling limited edition screen-printed posters of the above flyer, also proceeds going to Jake's wife.
*Attica! Attica! was a recent/last minute addition to this show, hence him not appearing on the flyer/poster.
x-posted from Facebook and a few other places.
http://www.facebook.com/event.php?eid=143329369013409
RSVP to the facebook event, blah blah!
If anyone here lives in the NYC region/area and would like to come to this, please do. If not, please try and spread the word.
- Barrie