Not really Fest related, but my label has a new release at the plant and I'm now taking preorders for this...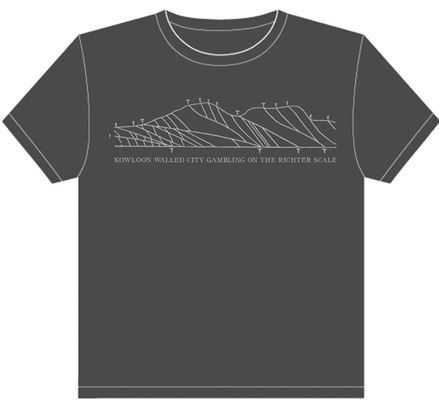 KOWLOON WALLED CITY
"Gambling On The Richter Scale" LP+CD (PMM027)
Out September 29, Now Available for Preorder
The Perpetual Motion Machine is now taking preorders for the upcoming
KOWLOON WALLED CITY
full length LP+CD which is due out September 29. On "Gambling on the Richter Scale," their first full-length, San Francisco's KOWLOON WALLED CITY add a touch of finesse to the grinding pummel introduced on last year's Turk Street EP, which drew comparisons to Neurosis, The Melvins and other low-end explorers, from the '90s AmRep roster to the current crop of sludgecore contenders.
Limited to 500 copies, the LP is available in two color variations, clear (limited to 300) and black/silver mix (limited to 200). All copies come packaged in heavy, full color jackets and include a CD version, packaged in a seperate silkscreened chipboard sleeve.
As with the last couple PMM preorders, I'm doing a run of limited shirts to accompany preorders. The shirt design which features an image of earthquake thrust planes will have white ink printed on charcoal grey, ultra-comfy cotton Next Level shirts (comparable to American Apparel shirts). I've also got a few copies of their Turk Street 10" EP in the store. Preorders will begin shipping in late September.
"Fierce, furious, crushing heaviness. Think Unsane, old Helmet, the Melvins, Buzzov-en, Neurosis of course, this is some seriously heavy shit. Pretty fucking excellent." - Aquarius Records
"One of the best contemporary acts representing The New Wave Of American Noise Rock." - MetalSucks.net
Pre-order LP+CD with limited edition t-shirt
Pre-order LP+CD
Stream 2 tracks from the album on KWC's website
Check out a free download of KWC's Turk Street ep here
Still Available from PMM:
THE CATALYST "Swallow Your Teeth" LP/CD
ANCIENT SKY "s/t" LP
LITANY FOR THE WHALE "Dolores" 12"
Distributed by Revolver USA, Ebullition, Dischord
http://www.theperpetualmotionmachine.com